Thailand Travel Guide A-Z
Thailand will dazzle, intrigue and set your senses on fire, with or without a chili. A tourist playground of chaotic cities, dense jungles, plus otherworldly karsts and crags reaching for the sky. There are endless oceans lapping silvery shorelines, crumbling remnants of ages past, golden Buddhas and saffron-robed monks.
Thailand is where you can be a glutton at a feast of sights, smells and sounds.
Best time to go:
It has been alluded that Thailand has 3 seasons:  hot, hotter and the hottest. In actual fact it does have a hot season, a cold season and the rainy season however you want to look at it. Cold in this instance is a variable on what is actually "cold" to each individual. Every region in Thailand is different and depending on what you want to get up to whilst on holidays, the weather may not be an issue.
November to February – you can excited and see frost occasionally in Chiang Rai and Chiang Mai in the north where the temperature may fall to as low as 4°C but the south remains warm. January is the best month to be in Bangkok.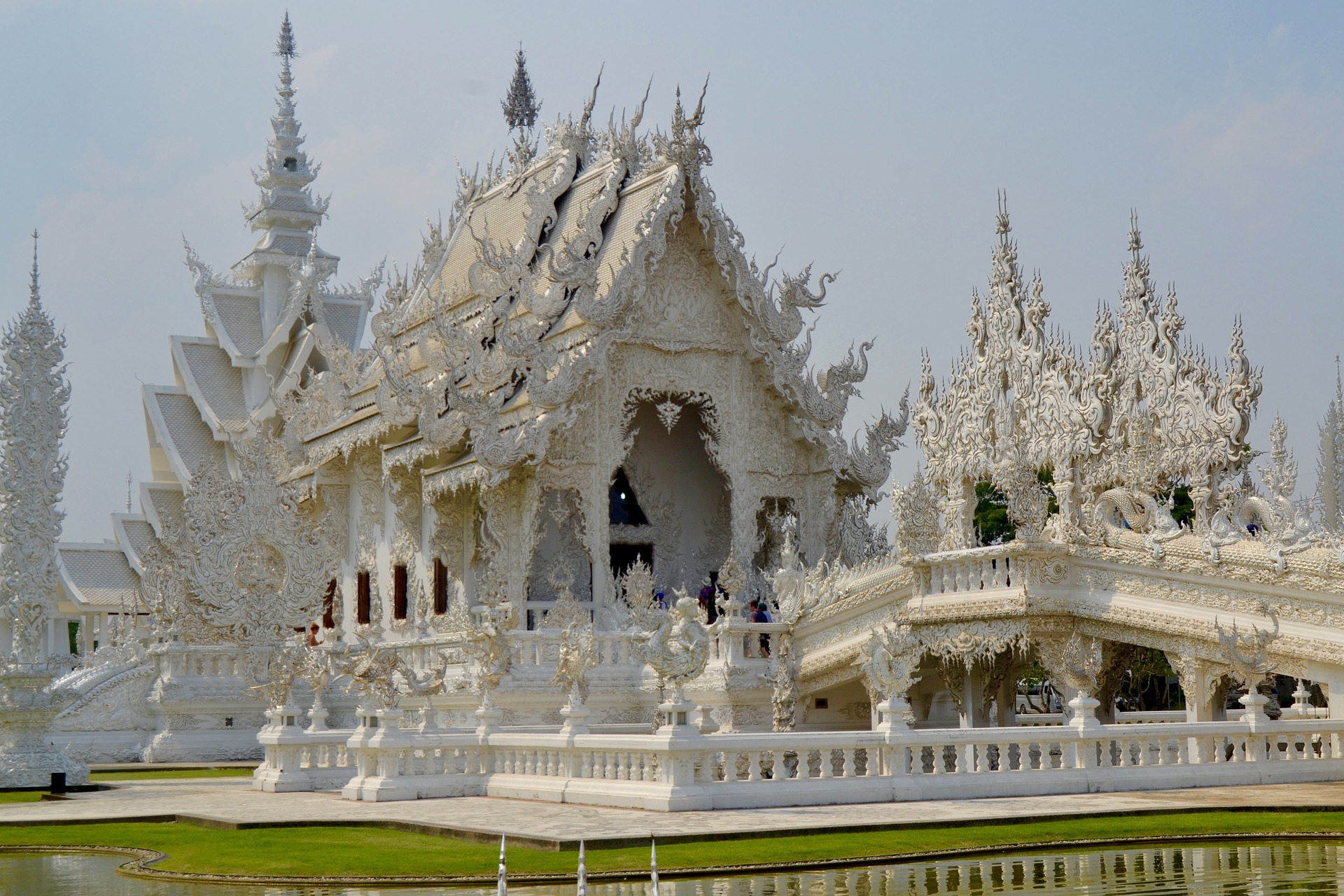 February to May will give you sunny days with little rain and temperatures will be around the 29°C mark. The months of April and May are the hottest months. You may get a bit of rain during this season in the southern provinces.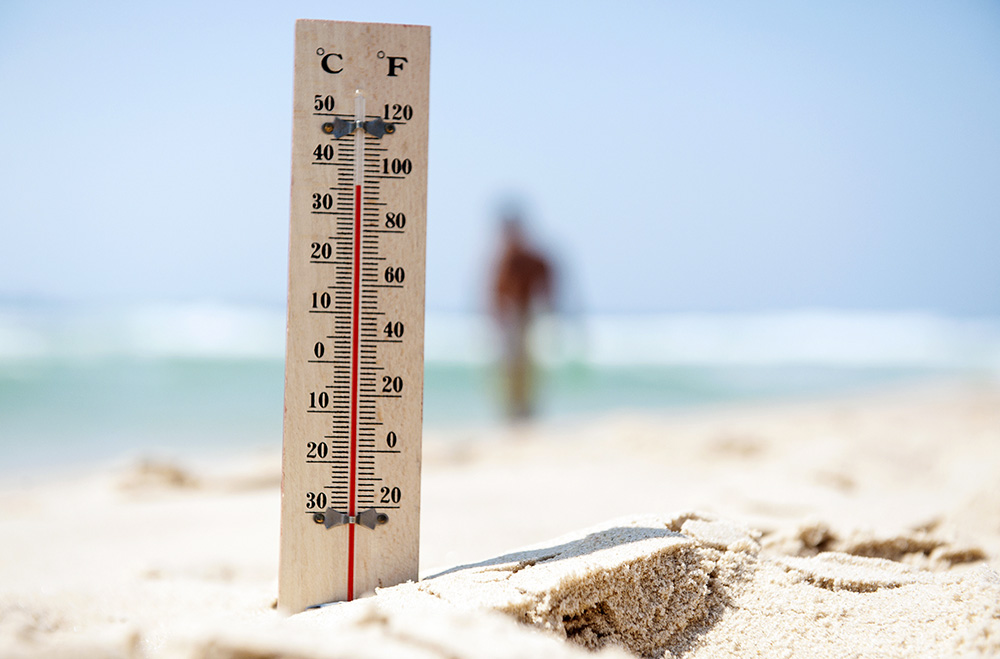 Of course if you go in the monsoon season, that is technically from May to October you may have a chance of experiencing cabin fever, as sometimes the rains just keep on coming.  Other days it may be a case of blazing sunshine for a few hours relief to the deluge. Bangkok becomes a steaming pool and quite often experiences flooding during this period, hence its nickname of "Venice in the East".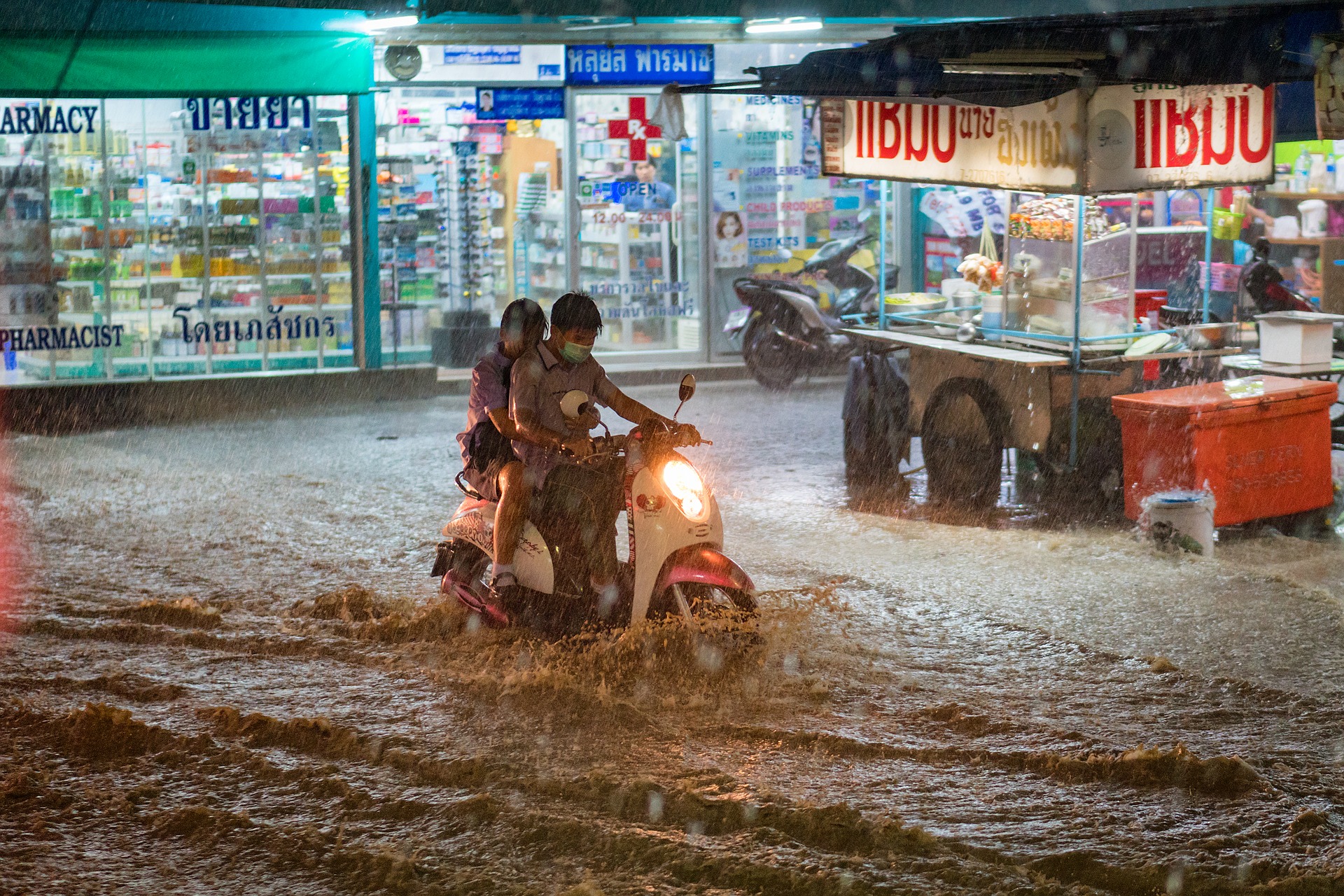 From Beach Huts to 6 Stars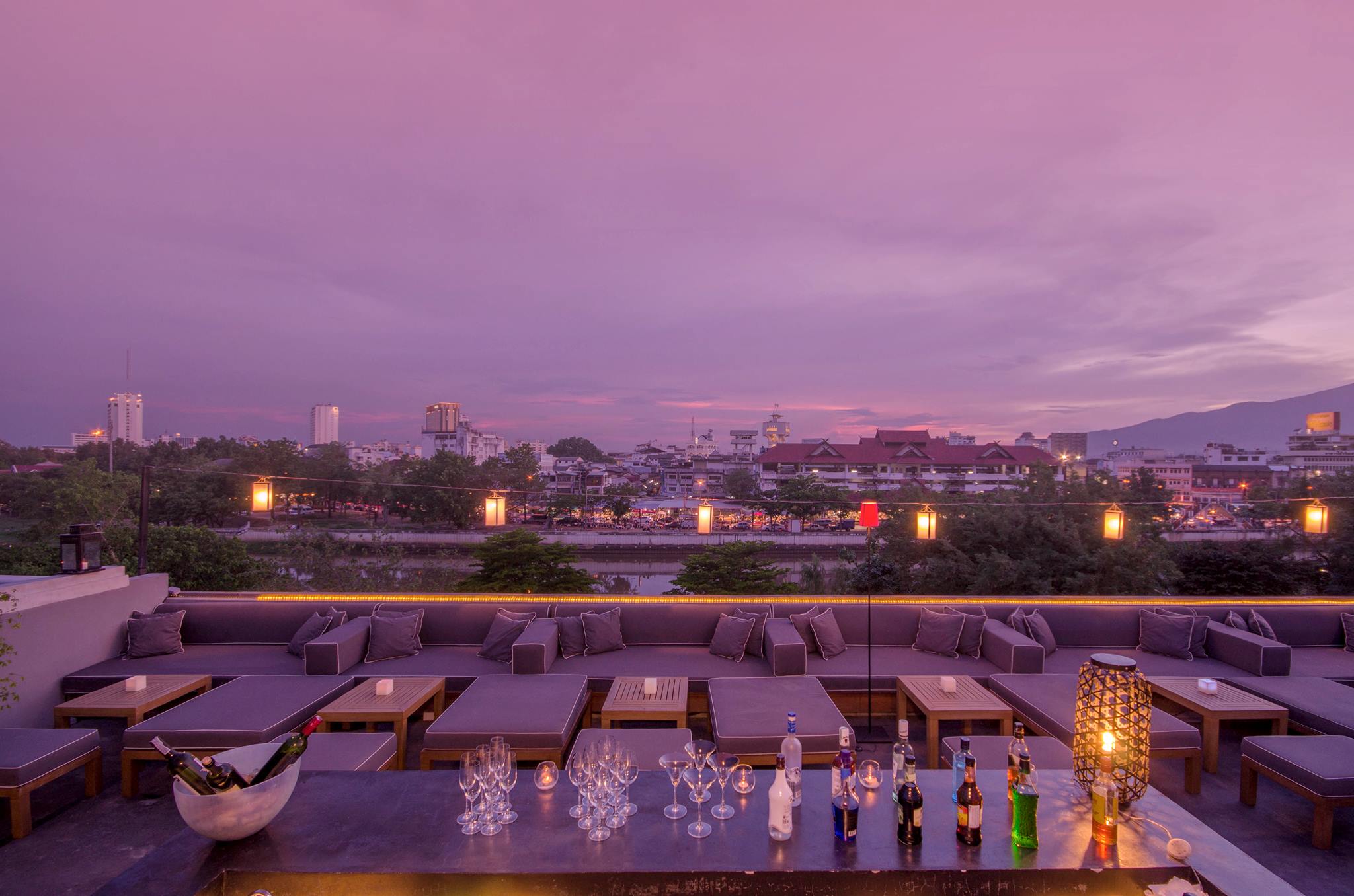 Accommodation in Thailand runs the full gauntlet of styles from hedonistic obscene luxury to a rustic thatched 4-walled hut sitting on a beach.  It is merely a question of where you want to put your head at night and how much your want to crash your plastic.
From the Amanpuri with its decadent spa dipping its toes in the Andaman Sea to the fantasy land of Keemala on Phuket, or the Elephant Hills Jungle Safari dangling over the Cheow Larn Lake in Khao Sok National Park to the stunning Sala Lanna on the river in
Chiang Mai
; Thailand has got a bed for everyone.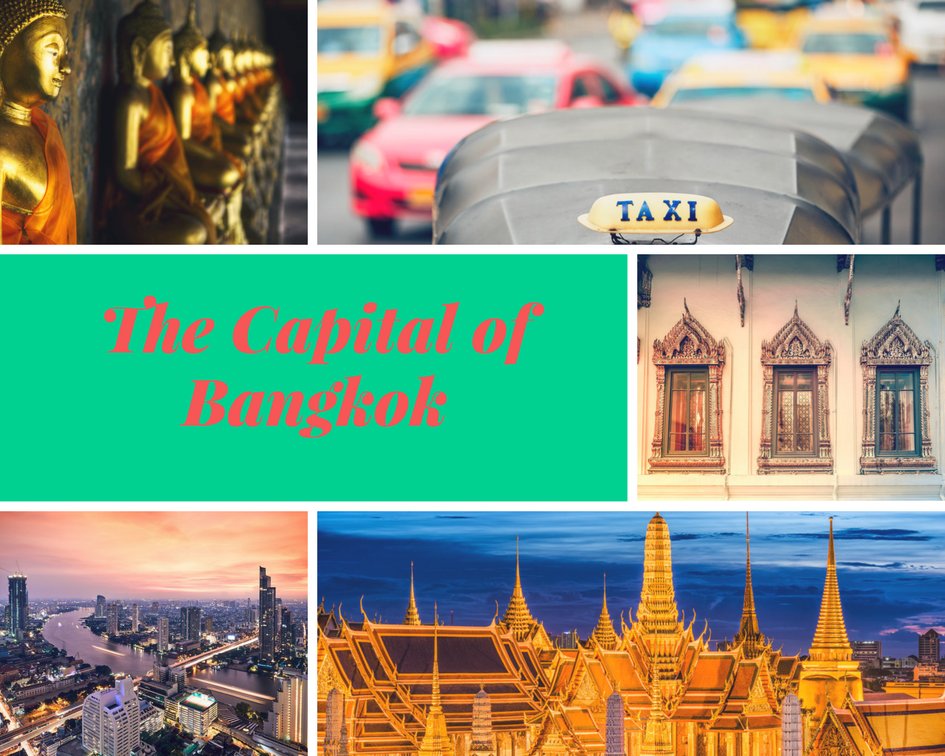 The Capital of Bangkok
Known as the "City of Angels", the capital Bangkok is a riot of color, a cacophonous explosion of noise from its disco tuk tuks prowling the streets, plus the smelly mixture of dank riverbanks and city fumes. From its jostling sidewalks to its manic motorbike riders, the city assaults your senses incessantly as the humidity leeches the sweat from your pores.
With over 400 temples, royal palaces and mansions, a skyline of heaven reaching skyscrapers, wondrous floating markets to explore, mud swirling khlongs, the bustling Chao Phraya River and water spraying long boats, you will never get bored. The historic district of Rattanakosin hides Wat Pho and the Grand Palace, whilst the Chatuchak weekend market is fuel to any shopaholic who likes to haggle. The BTS sky train and MRT subway are the transport hubs for this city that never sleeps. It is the city to get lost in, as every corner you turn will show you its chameleon core. The miniscule lanes of Chinatown with wafting aromas, the gold laden temples for contemplation or an impromptu chat with a Buddhist monk to the seedy side of Soi Cowboy with its endless parade of neon bright bars. Khao San Road is the melting pot of locals and tourists, blending beer bars, tattoo shops and outdoor foot massage pop ups. Sukhumvit is where you will find the glitter and cosmopolitan edge to a dynamic Bangkok nightlife and megamalls will leave you exhausted from totting too many shopping bags. Most of Bangkok's coworking spaces are centered around here, giving their patrons plenty of options to unwind after a productive day's work. Bangkok is a culture shock wrapped up in gaudy sights and secret hideaways where you can be royalty on a pauper's wealth.
Heaven on earth for foodies:
From crispy and crunchy fried grasshoppers to succulent and aromatic curries, Thailand's cuisine is a marriage of centuries-old Eastern and Western influences with the basics of salty, sour, sweet and spicy. It is all about balance, detail and variety with attention to detail of the texture, color and taste. In the words of Australian chef David Thompson it is "the juggling of disparate elements to create a harmonious finish". Vegetable carving began nearly 700 years ago in the Sukhothai Kingdom and today is the focus point to many decadent hotel buffet spreads. In 2017, seven of Thailand's dishes made it to the "World's 50 Most Delicious Foods" which was more than any other country: tom yum goong, pad Thai, som tam, Massaman curry, green curry, Thai fried rice and moo nam tok all featured on this list of international favourites.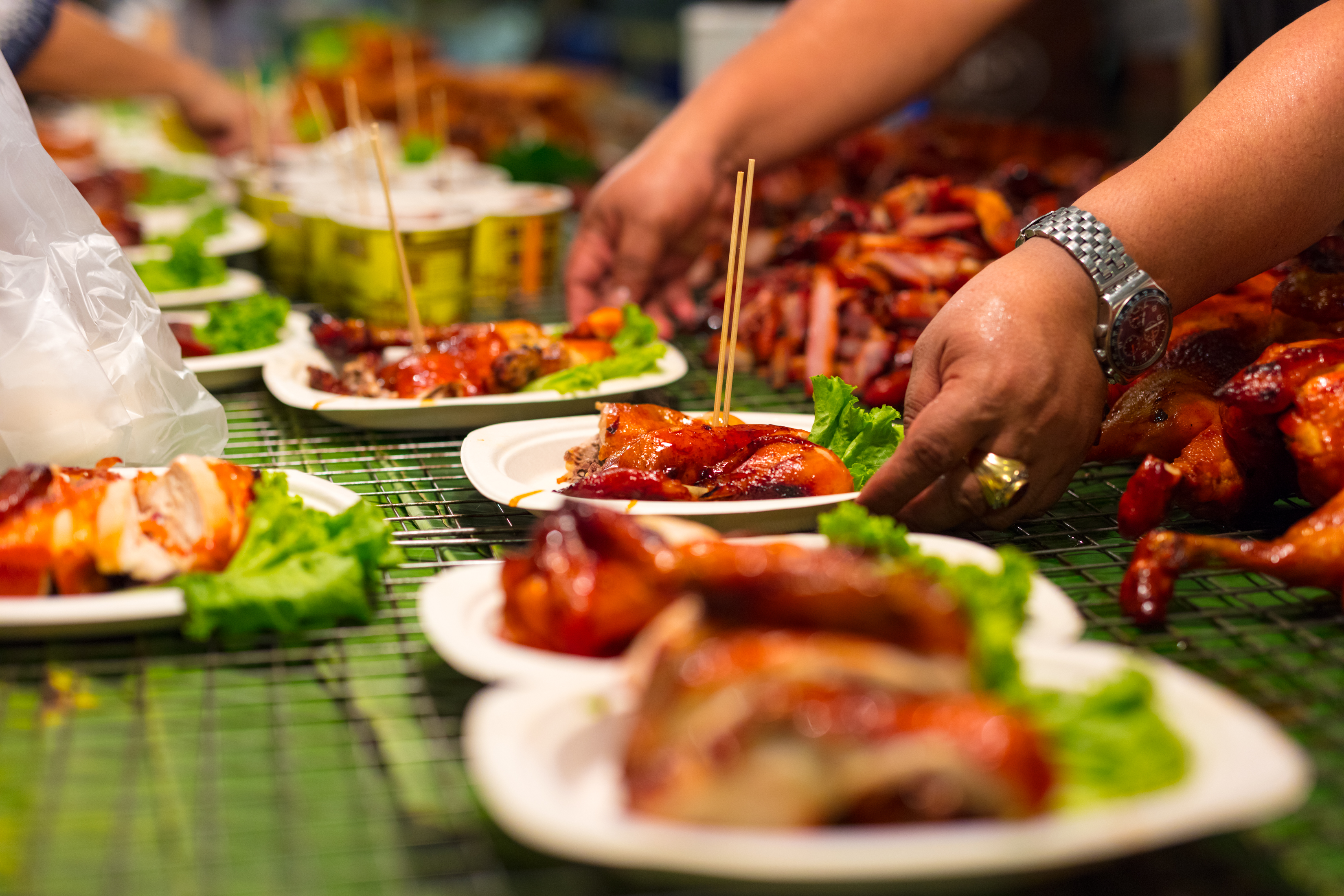 Thailand is considered to have 5 regional cuisines and if you want to get the real foodie experience, you should indulge in some "curb de cuisine", which you will find everywhere. Forget about the white tablecloths and the demurring wait staff. Let the sweat mingle with exhaust fumes as you slurp on a tom yam at a cracked plastic kiddies table whilst squatting on a chair for a 2 year-old.
You will pay a pittance for the privilege and the smiling vendor will be looking at you for approval. A "proper" Thai meal involves the eating of a soup, a curry dish with its plethora of condiments plus a dip with fish and vegetables. A spicy salad may replace the curry dish, but above all there must be a wedded bliss of tastes and textures to satisfy the palate. This is why a Thai meal is served all at once, and you can forget about having a knife and fork.
For the Culture Lovers
Thailand is saturated in Buddhism everywhere you look from small makeshift spirit houses on the side of the pavement to gigantic ancient banyan trees draped in ceremonial cloth to honor the spirits. It is a land of ghosts, myths and mysticism with amulets and talisman dangling from necks, rear vision mirrors in cars and carried in pockets.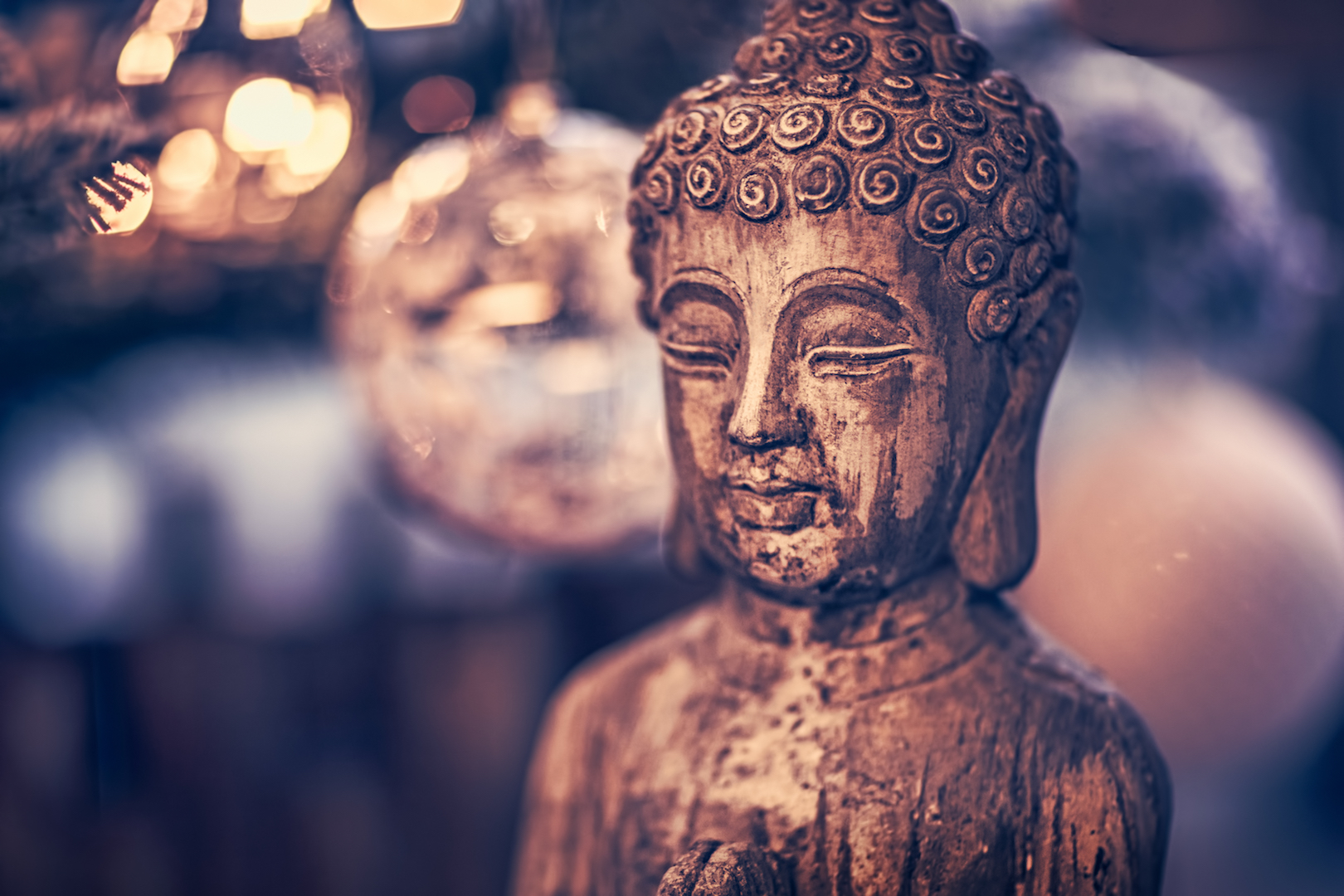 No matter where you wander in Thailand you will come across impressive Buddha statues, whether it is in remote off-the- beaten paths in the north to the tallest Buddhist monument in the world sitting in Nakhon Pathom, the oldest city in Thailand.
There are underground cave shrines in Phetchaburi and Kanchanaburi, hilltop temples such as Wat Phra That Doi Suthep in Chiang Mai and the startling white fanciful White Temple in Chiang Rai on the border with Myanmar that verges on "disneylandesque" proportions.
A UNESCO World Heritage Site with an abundance of sacred sites is to be found in Ayutthaya, once the country's capital. There is the Crystal Buddha and the underground Tunnel Temple in Bangkok, as well as The Black House in Chiang Rai, which is one man's interpretation of Buddhist philosophy with definite dark undertones.
For Intrepid Souls
The adventurous wanderer has a plethora of water sports to choose from including scuba diving, sea kayaking, river rafting and during the monsoon months, surfing. The trekker can hike in the northern regions and meet the local tribes, albeit this has become a bit of a touristy event, or head down south to Krabi for rock climbing. If you like the adrenalin pump of bungee jumping, Pattaya, Phuket, Mae Rim and Ko Samui will have you enthralled. The boaties can hang out literally anywhere around Thailand's 2 coastlines and its bounty of islands, limestone cliffs and dramatic karsts hiding caves and treasured archaeological sites. You can dive with the whale sharks off Ko Tao, kite board in Hua Hin or party all night on Ko Phi-Phi.
Escape the Maddening Crowds
You can still find your own untouched oasis in Thailand, if you don't wish to be hemmed in by seething bodies of a multitude of nationalities. Thailand is almost being loved to death and to escape the "same same" mentality of many who visit Thailand almost on a religious annual pilgrimage, you need to head away from the burgeoning tourist areas if you wish for a touch of hermit madness.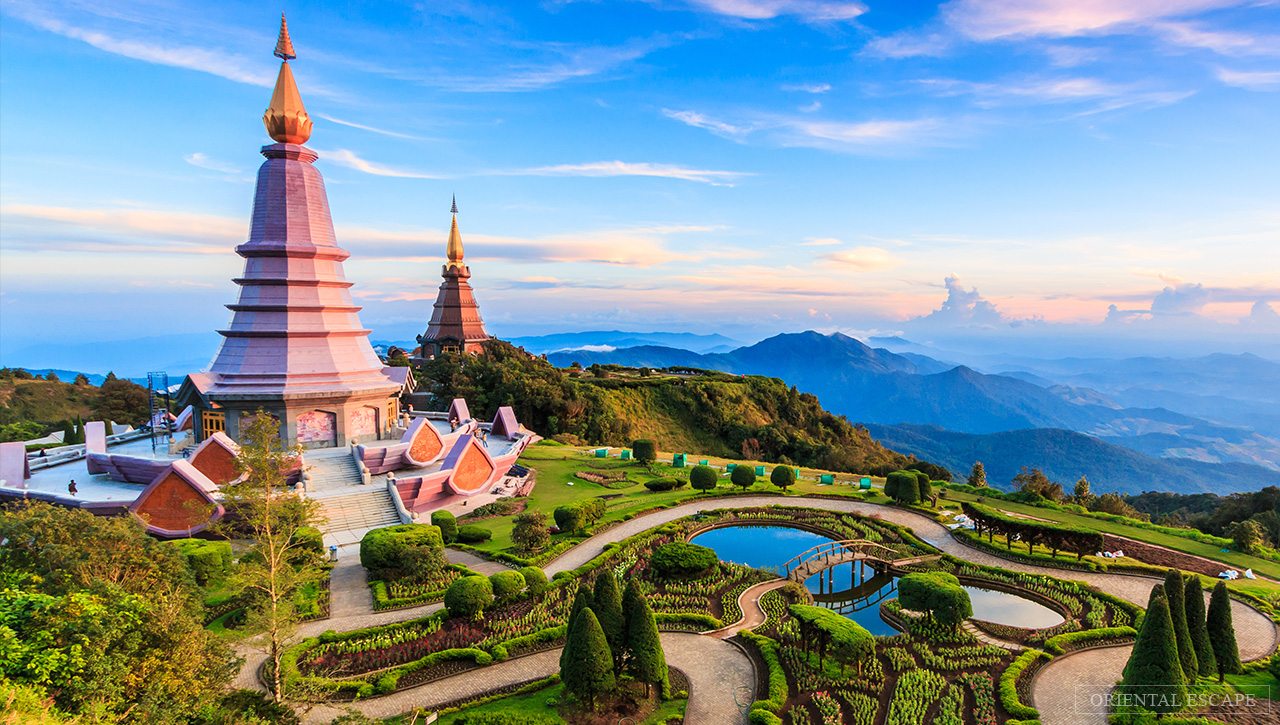 The north of Thailand will give you serenity in the rural town of Surin and incredible river views looking towards Laos over the mighty Mekong River can be had from Nong Khai. The quirky and eccentric "Buddha Park" on the outskirts of this town will give you pause, but no crowds.
You will find ancient Khmer ruins in Buri Ram and white sand beaches on the east coast that are yet to be fully developed. Koh Chang's tropical jungle, hiking trails, waterfalls and rock pools where you expect to see nymphs flitting about, will give you a sense of solitude, whilst a trek in the national park of Doi Inthanon will land you on Thailand's highest peak.
For the sand gropers, sun worshippers and those looking for Nemo or full moon parties:
Thailand is blessed with crystal diamond clear water, stretches of golden sand aproned with the ubiquitous post-card perfect gently nodding green palms. Its geography of having shorelines on the Gulf of Thailand and the Andaman Sea, plus numerous lush islands, makes it a beach lover's haven.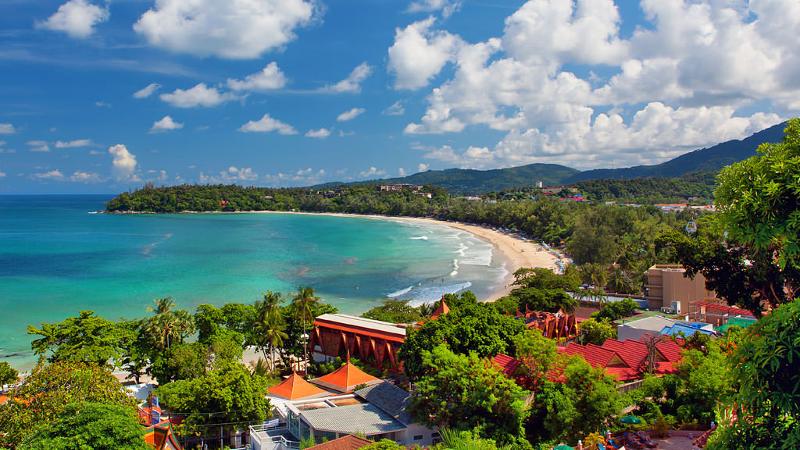 Kata Beach is big enough to frolic on without bumping into a just sculptured body courtesy of the burgeoning plastic surgery market. Colorful long boats line its shores at one end with 5-star hotels at the opposite end.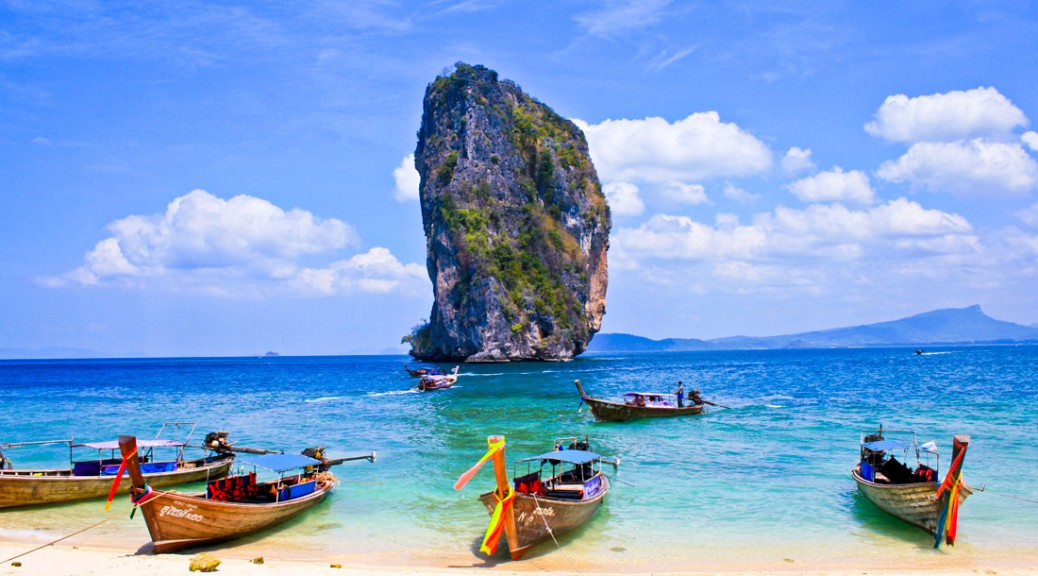 Railay at Krabi is where you will find Phra Nang Beach with its incredible rocks, hidden caves, pristine sand and noodles served straight from long-tail boats moored on the shore.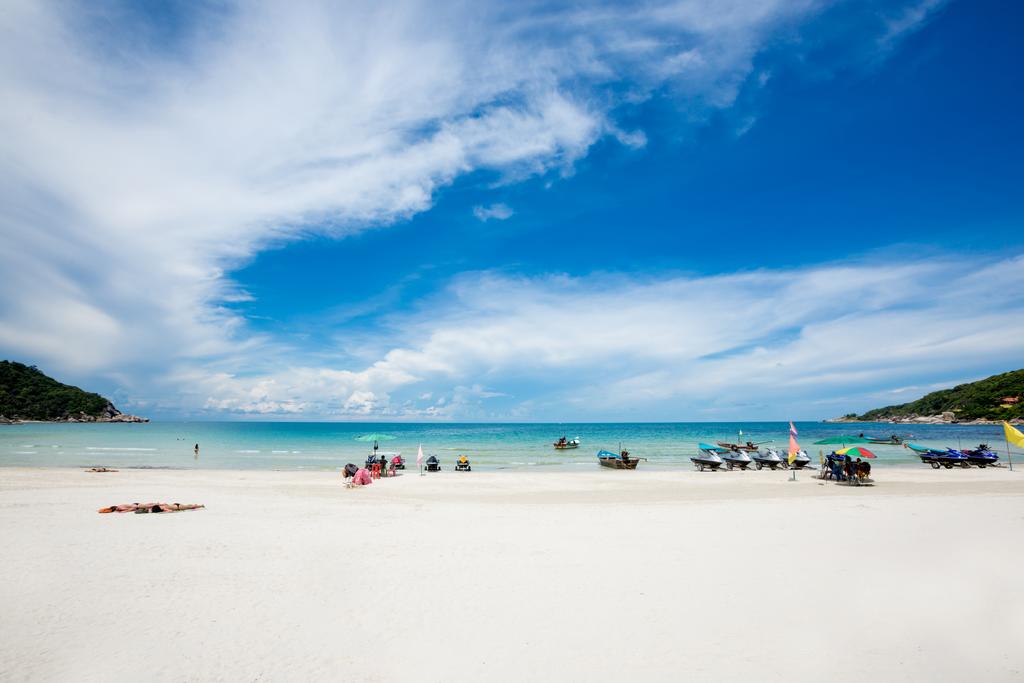 Head to Haad Rin Beach on Koh Pha Ngan to get lost at a Full Moon Party, but if you wish to laze on a beach of beauty, go to the small and quiet stretch of sand on the northern side of Koh Pha Ngan, Thong Nai Pan Beach.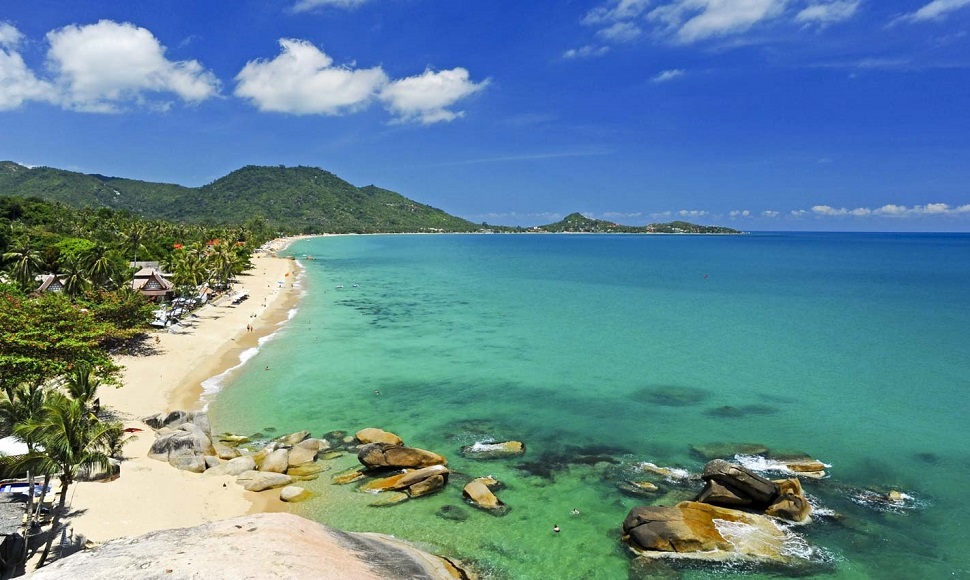 If you are chasing the convenience of simple beachfront bars and restaurants, whilst putting your feet in the sand, head to Lamai Beach on Koh Samui with its iconic Hin Ta and Hin Yai rocks perched on the southern end.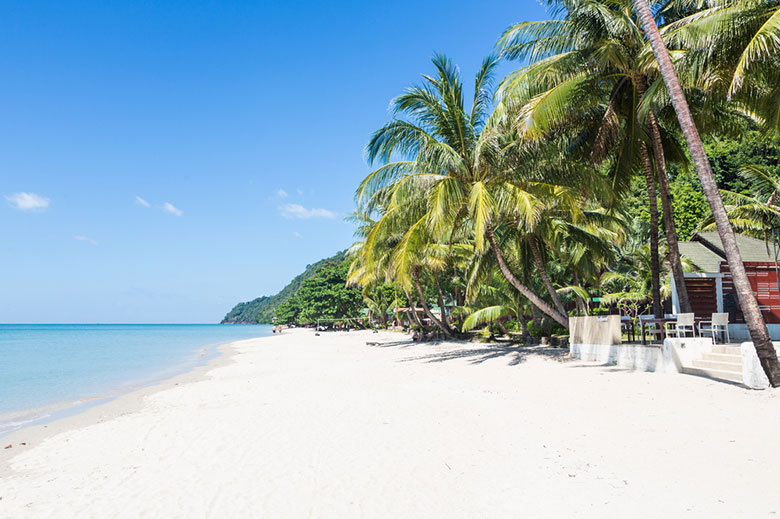 You will be gob smacked at White Sand Beach at Koh Chang, as the sand is powdery and so white it is almost blinding in the middle of the day.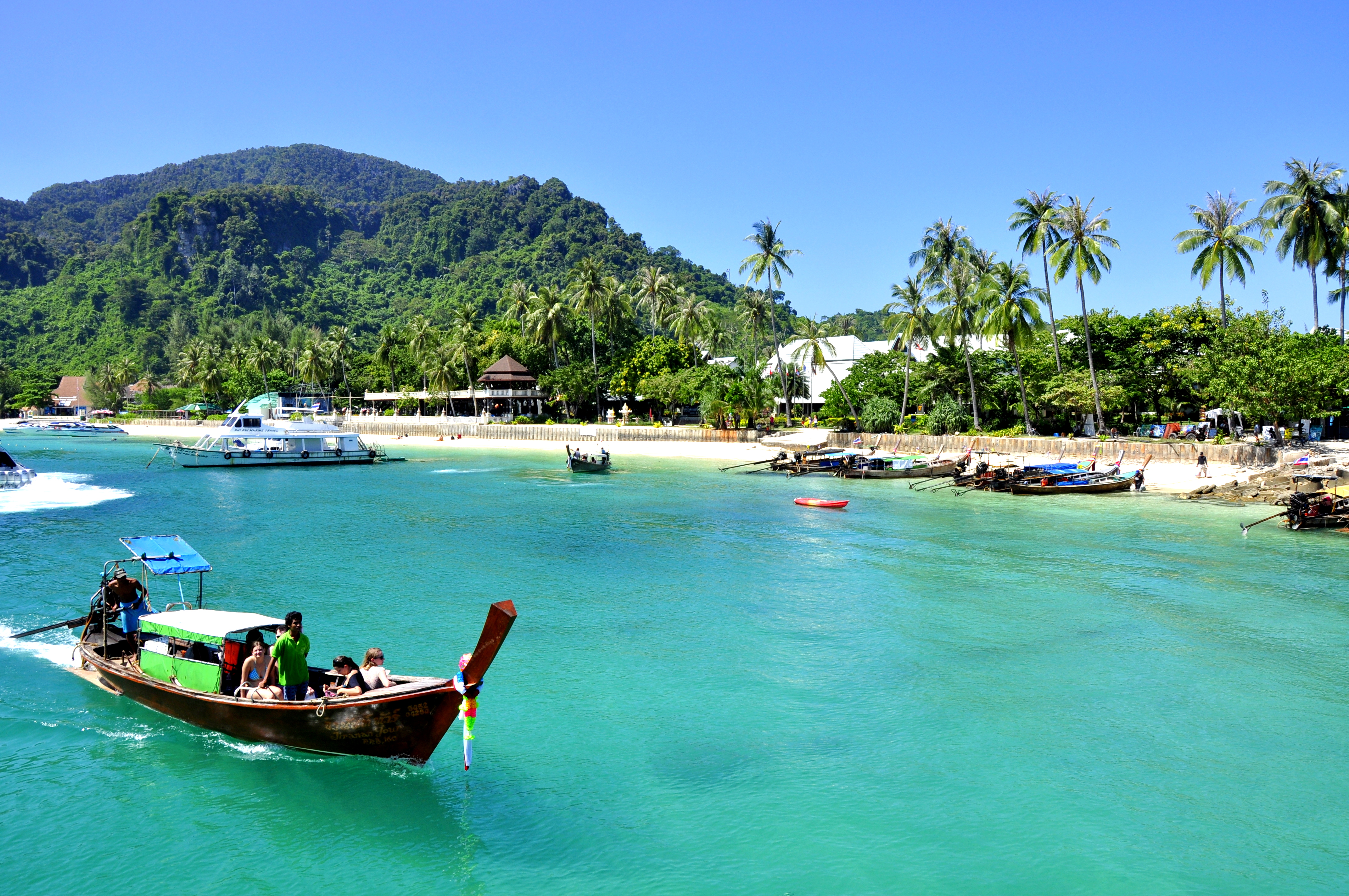 Sitting on Phi Phi Island and similar to the sand to be found at White Sand Beach, Laem Thong Beach will have you spell bound. Bamboo Island sits nearby where you can explore coral reefs and go searching for Nemo.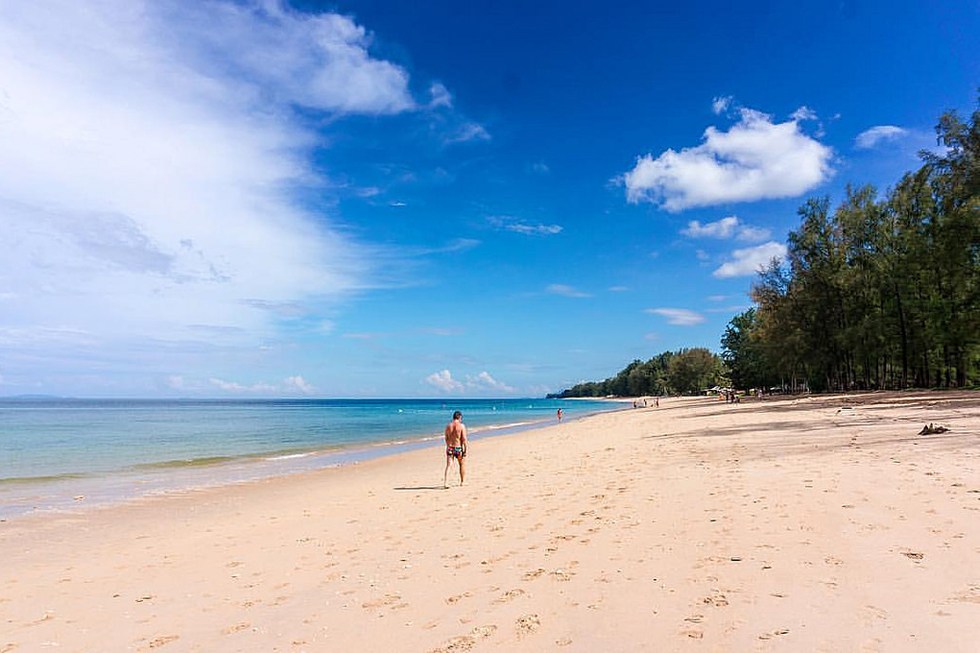 For the perfect sunset you should head to Klong Dao Beach at Koh Lanta, where the brilliance and play of twilight is a photographer's dream vision.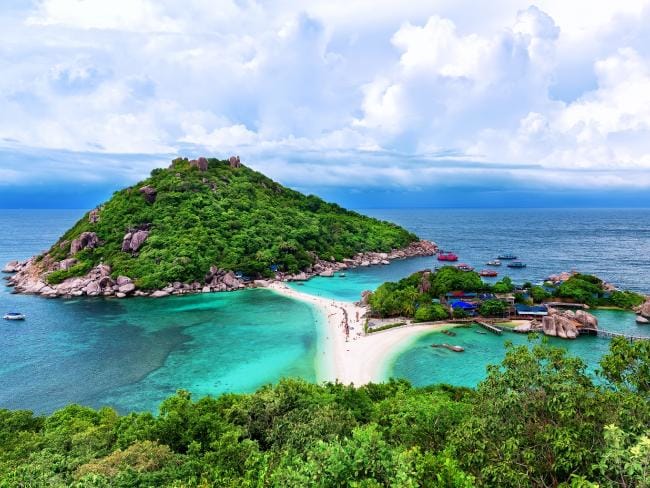 A sandy bridge of beautiful beach connects 3 small islands on the northwest coast of Koh Tao.  A bit on the popular side, it is still a beach that has to be seen, to be believed.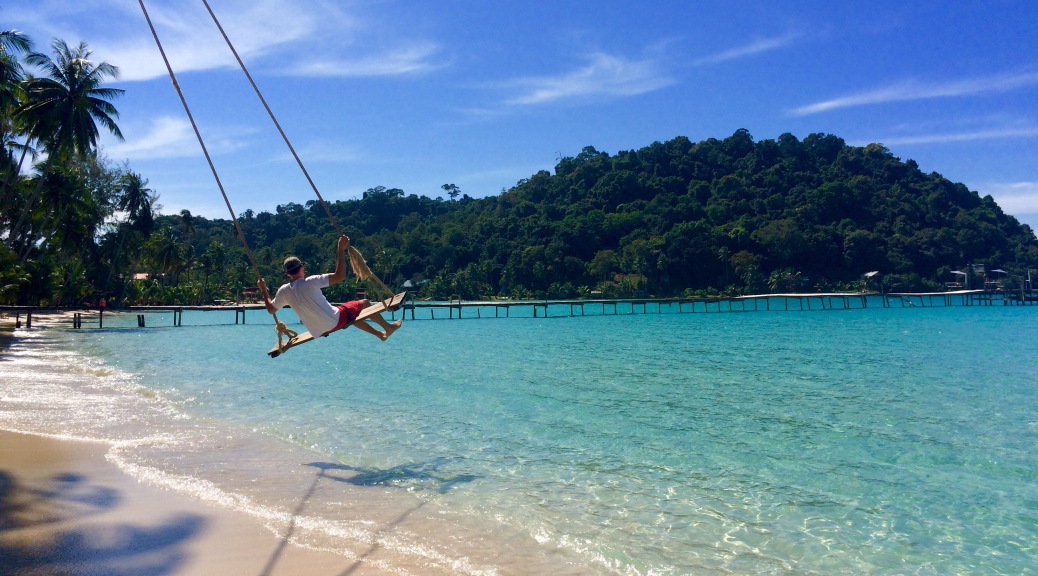 Koh Chang in the far east of Thailand is a touch on the off-the-tourist radar destination and it hides Bang Bao Beach that is a treat for anyone who goes the distance.
Chiang Mai
 – laid-back with plenty of funky cafes and hip music clubs, the old town is perfect for meandering.  A backpackers haven, as well as having some of the most chic hotels in the whole of Thailand, Chiang Mai oozes atmosphere and a laissez-faire attitude.
From its hill tribe handicraft shops, beautiful temples and wats, quaint coffee houses, boutique restaurants to the Sunday walking street market, it oozes charm.  Then there are streets that lead you out into the countryside of refreshing waterfalls and pristine rainforests; it is easy to while away a week or 2 in
Chiang Mai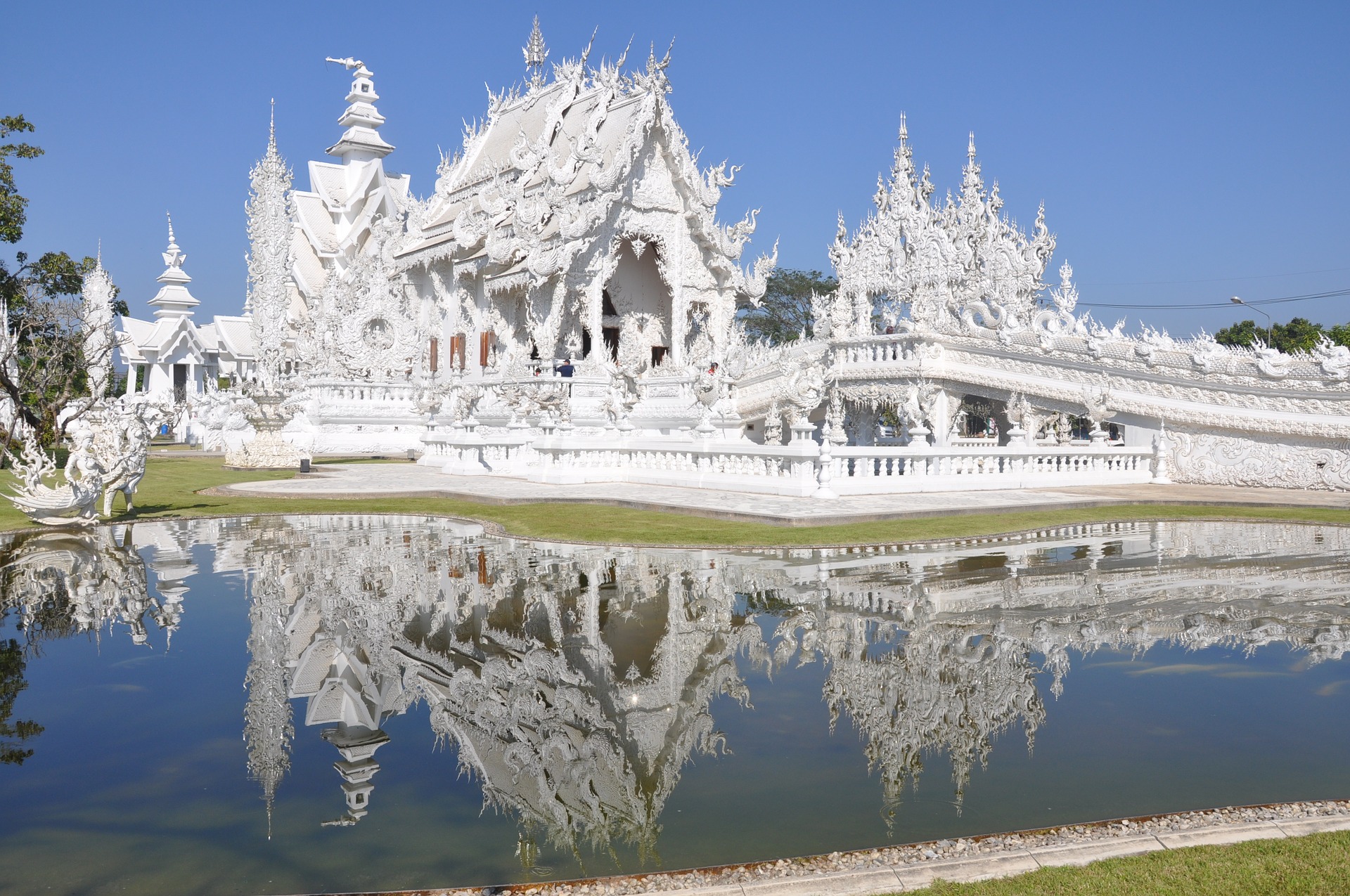 Chiang Rai
 – the most northern province of Thailand sharing a border with Laos and Myanmar, it has the most ethnically diverse population.  Think along the lines of San and other Tai groups, hill tribes and of more recent times, Chinese immigrants. Make sure you check out the sights of the White Temple and the Black House, both of which could be said to be 2 very different men's follies.  There are sweet smelling smoky bars and cute coffee houses, but one day should be spent going to the border town of Mae Sai and walking over the bridge into Myanmar.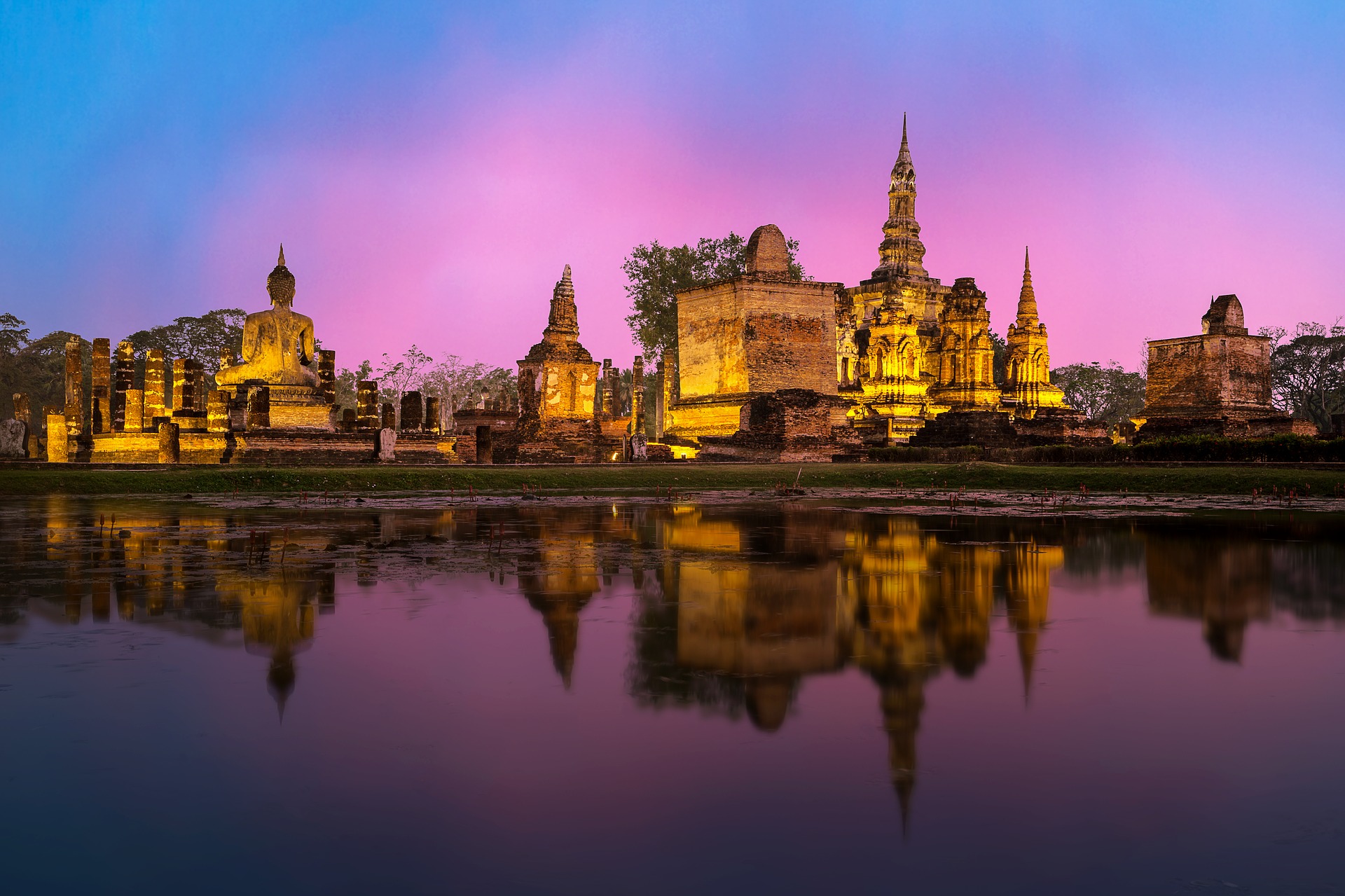 Ayutthaya – once the royal
capital of Thailand
(1350-1767) Ayutthaya's grandeur is the crumbling remnants of temples.  This is one for the history buffs where ruins are illuminated at night, temple silhouettes are ghostly specters and riverboats ply the river.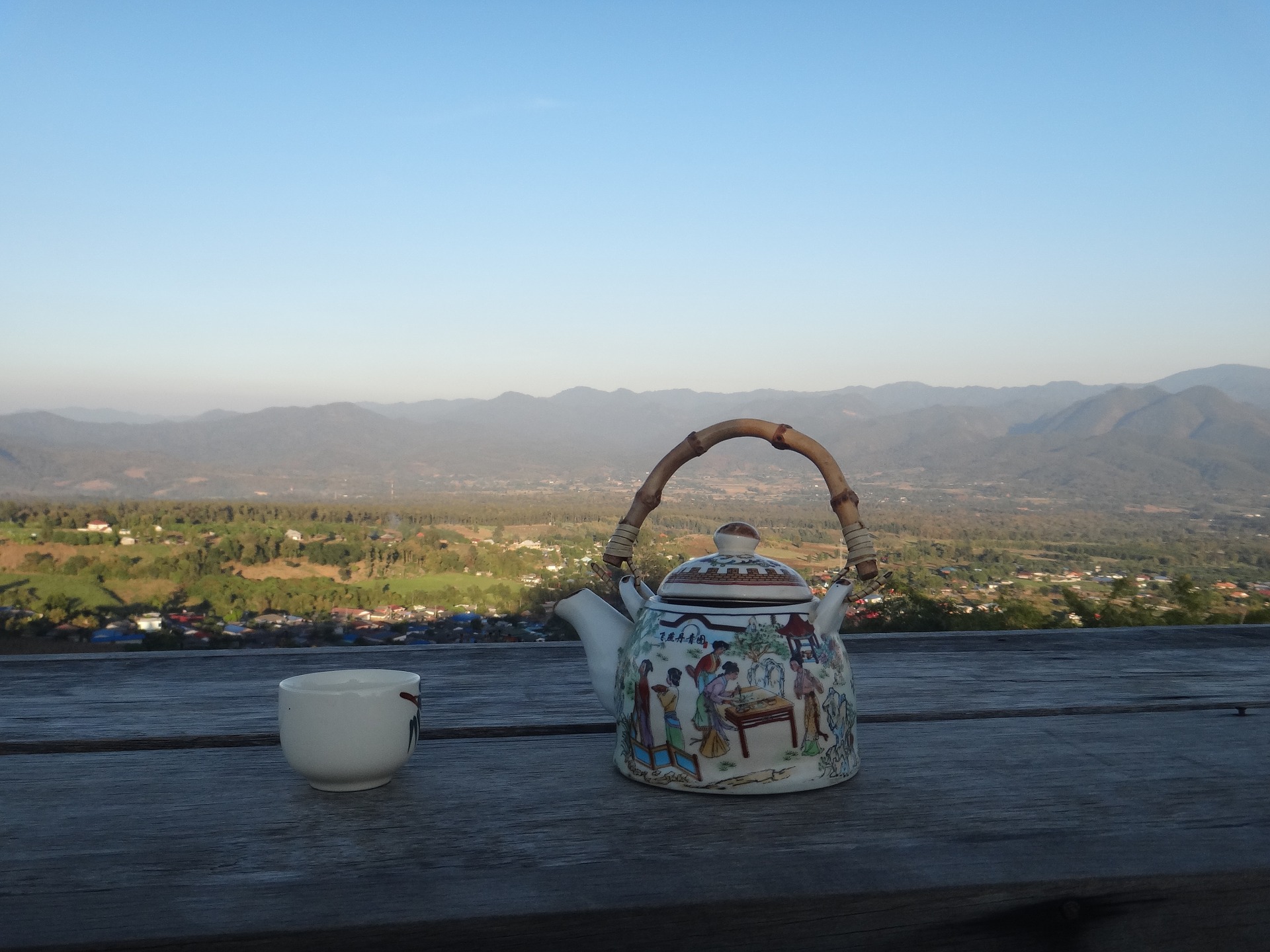 Pai and the Mae Hong Son Province – often referred to as the last hippy strong hold, Pai sits in a mountain valley of stunning beauty north of Chaing Mai. Thailand's remotest province, Mae Hong Son is reached via a windy mountain road with "vomit" road signage on the bends. Guesthouses are making way for more upmarket boutique hotels, the food is simply to die for and trekking agencies abound in the streets beside eclectic bars and coffee huts. The nights explode in full party mode and most people go to bed at dawn. It has a lazy pace, a lively art scene and an afternoon market that is well worth checking out. The strenuous souls will jump on a motorbike and head to the Pai hot springs for a dip or indulge in a mud smothering experience at the Phu Klon Mud Spa.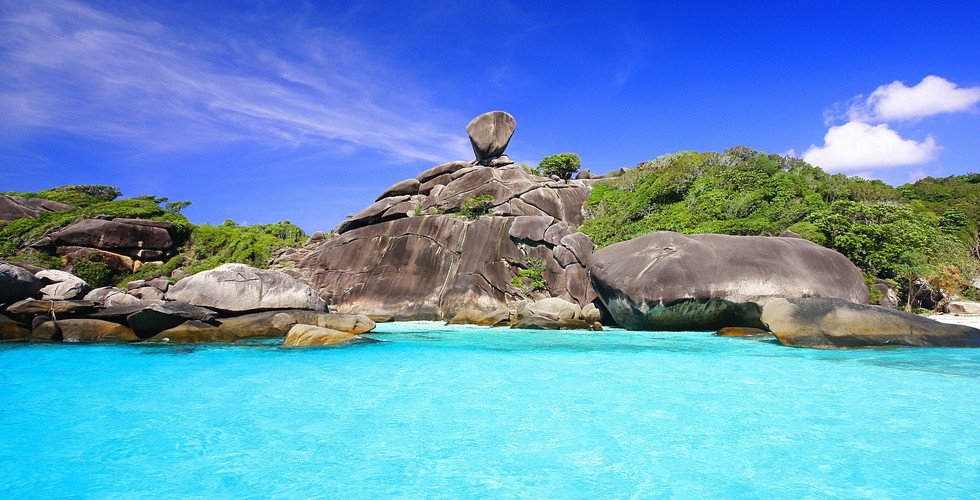 Similan Islands Marine National Park
Sitting 70km offshore from Phang-Nga Province, there is only one island that you can stay on, Ko Miang (Island 4) where you will find the National Park's office, visitor's centre and basic facilities for camping.  
Most people do the day-trip thing, but if you really want to experience this underwater wonderland, stay overnight and relish when the beach becomes your personal playground, instead of being lined up with hordes of people rushing off high-speed motorboats. The park is closed during the monsoon season every year -1st May to 31st October.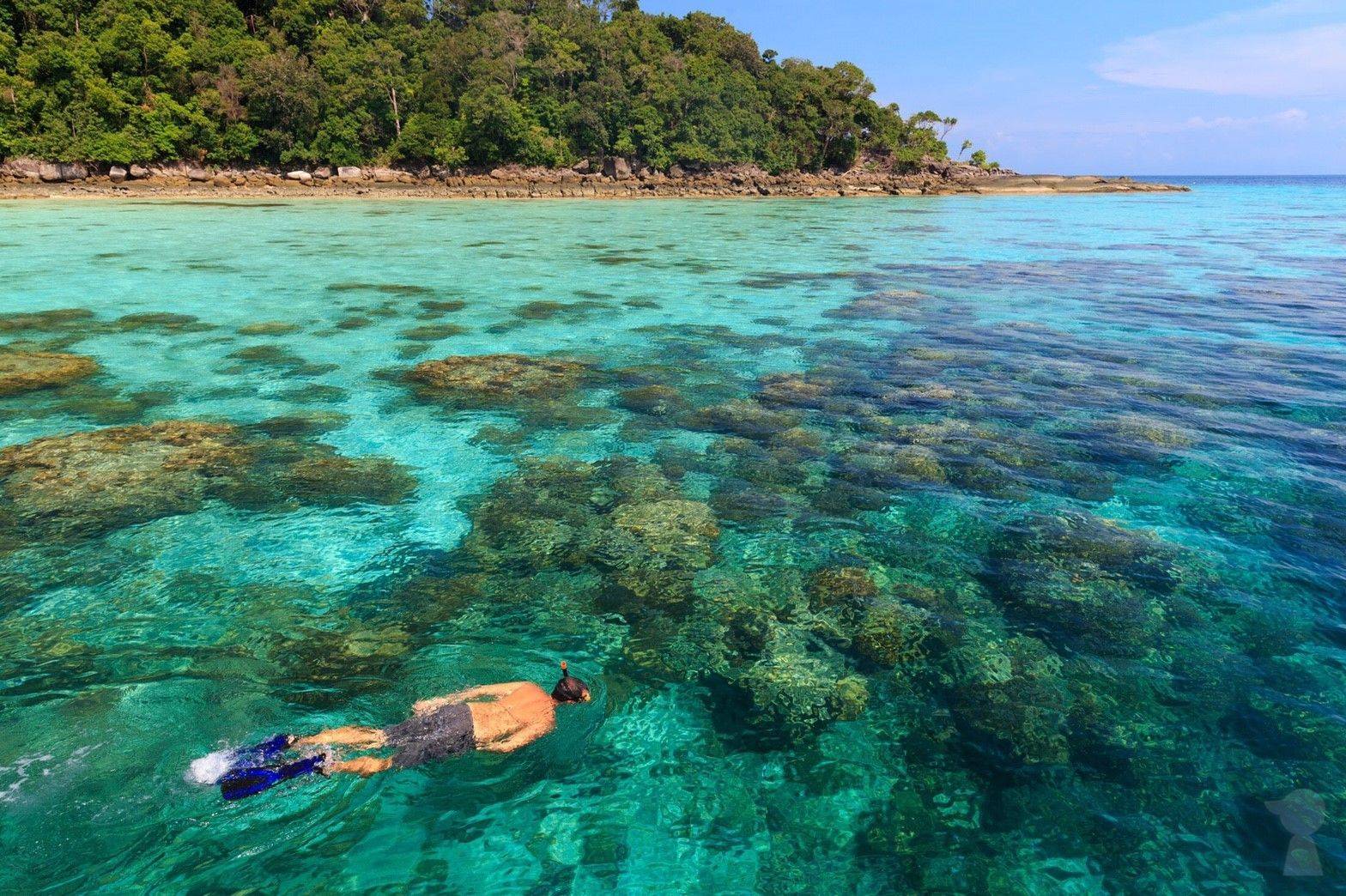 Surin Islands, Mu Ko Surin National Park
The alternative to the Similan Islands, but to reach this paradise that is home to the sea gypsies, the Moken, it takes quite a bit longer than going to the Similan Islands. This is where you will find 1 of the 10 best dive sites in the world, the Richelieu Rock, which lures some of the largest marine life species in Thailand such as manta ray and whale sharks.
Do stay overnight and wake up in a tent with the gentle lapping of azure water on a golden sandy beach with monkeys playing in the trees.  You must love simple Thai food, local beer and reading a book by torchlight. Mu Ko Surin National Park is also closed during the monsoon season – 1st May to 31st October.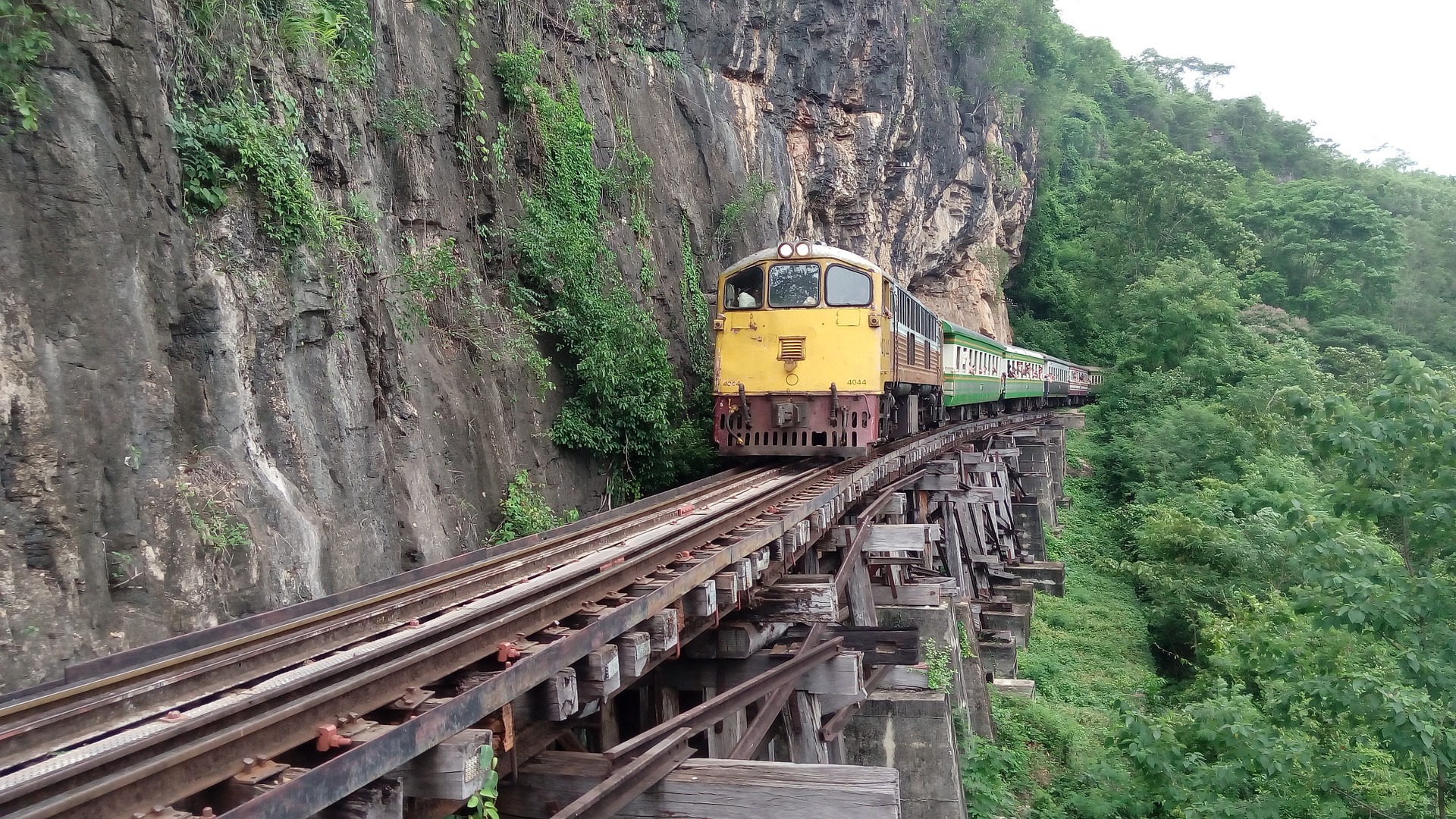 Kanchanaburi
You can have a silent weep at Kanchanaburi as you meander the serene grassy expanse of the Kanchanaburi War Cemetery or walk over the Death Railway Bridge and remember the prisoners of war who died building it.  
The infamous bridge and its dire story became famous after the Bridge Over the River Kwai was published that had been based loosely on the real events. The river is amazing and the town is a gateway to the national parks in the west.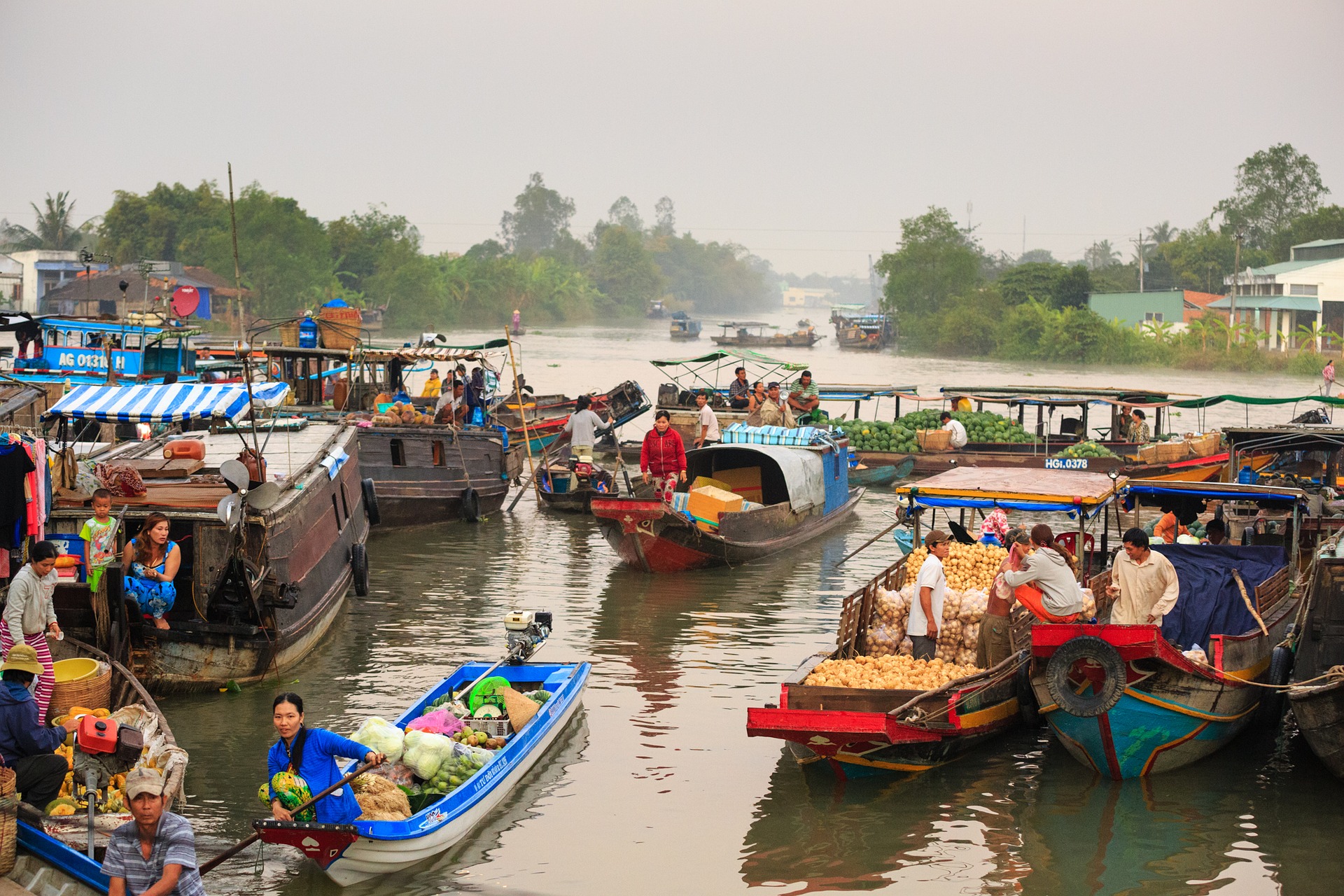 Mekong River and the Pha Taem National Park
With bird's eye views across the Mekong to Laos, the long cliff of Pha Taem will astound you with its prehistoric rock paintings, magic waterfalls and rock fields of oddly mushroom-shaped stones.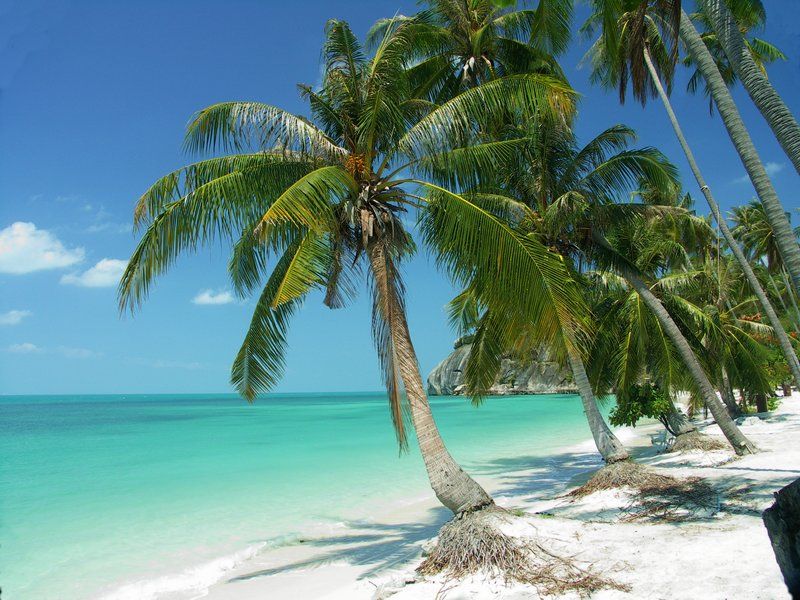 Ko Pha Ngan
Made famous for its full moon parties, Ko Pha Ngan is the perfect spot to lazy in a hammock during the months of April through to June, when there are fewer sun worshippers and safe roads.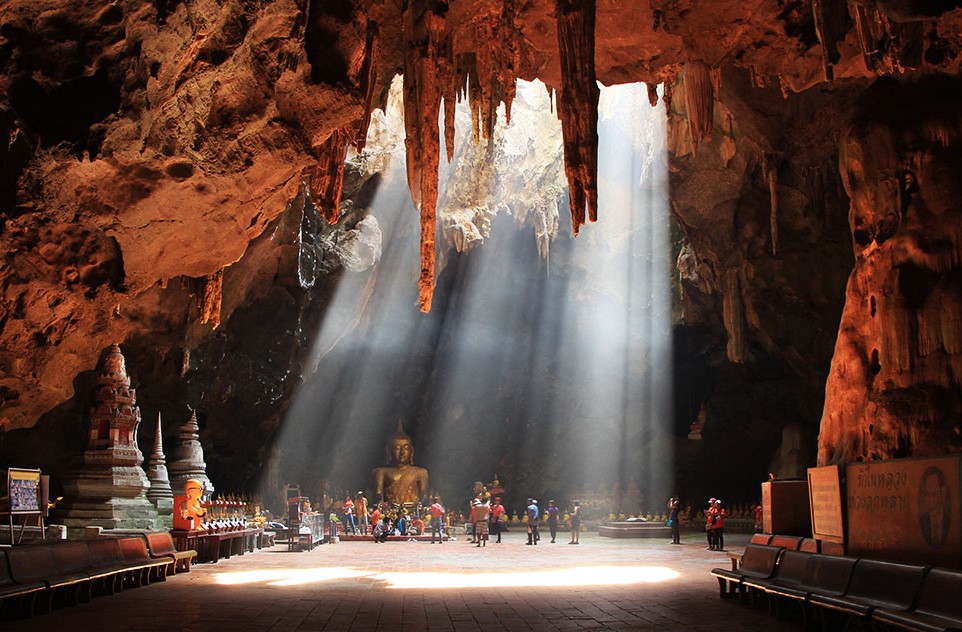 Phetchaburi
Awash in temples, cave shrines and stunning palaces, Phetchaburi is for the cultural seeker.  An untouched provincial town with traditional old teak shop-houses and riverside markets to explore, aimless meandering will reveal hidden treasures.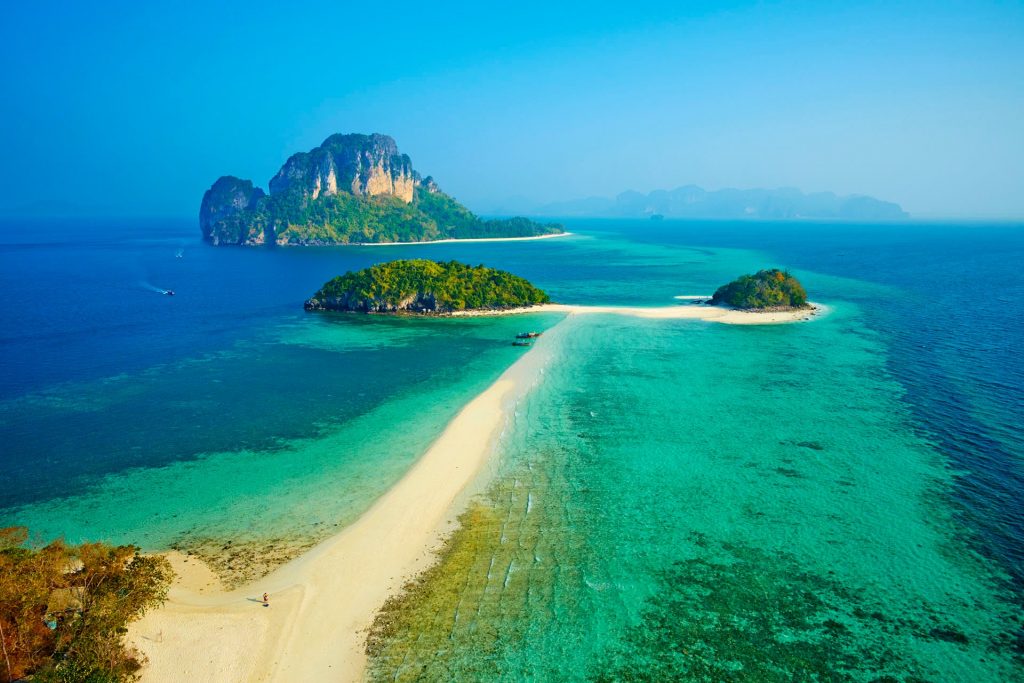 Ko Lipe
Cloaked in dense jungle, sandy white coves with aquamarine water coveting exquisite dive sites on coral reefs, chilled out rasta bars and hip cafes, Ko Lipe has been a victim of its own popularity.  You will be one of many when you visit here.
Khao Sok National Park
Thailand's rainiest spot, Khao Sok National Park is a jungle dating back 160 million years.  This is the rainforest for animal lovers, as during the rainy months you can see bears, gaurs, tapirs, gibbons, deer, wild elephants and the list goes on.  
There are over 300 bird species fluttering around, 38 bat varieties and the world's largest and smelliest flower, the rare Rafflesia Kerrii. You will have waterfalls and caves to explore in this lush playground.  The best time to visit is during the dry season December to April, unless you are into slippery trails and blood sucking leeches between June and October.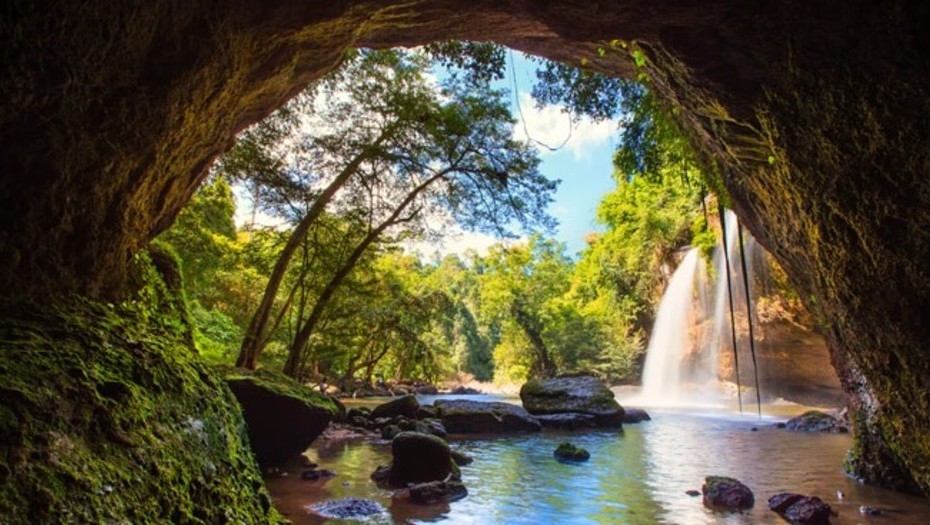 Khao Yai National Park
Thailand's oldest and most visited national park, Khao Yai is one of the largest monsoon forests remaining in Asia.  Named a UNESCO World Heritage Site, it is easy to get around and worth the effort.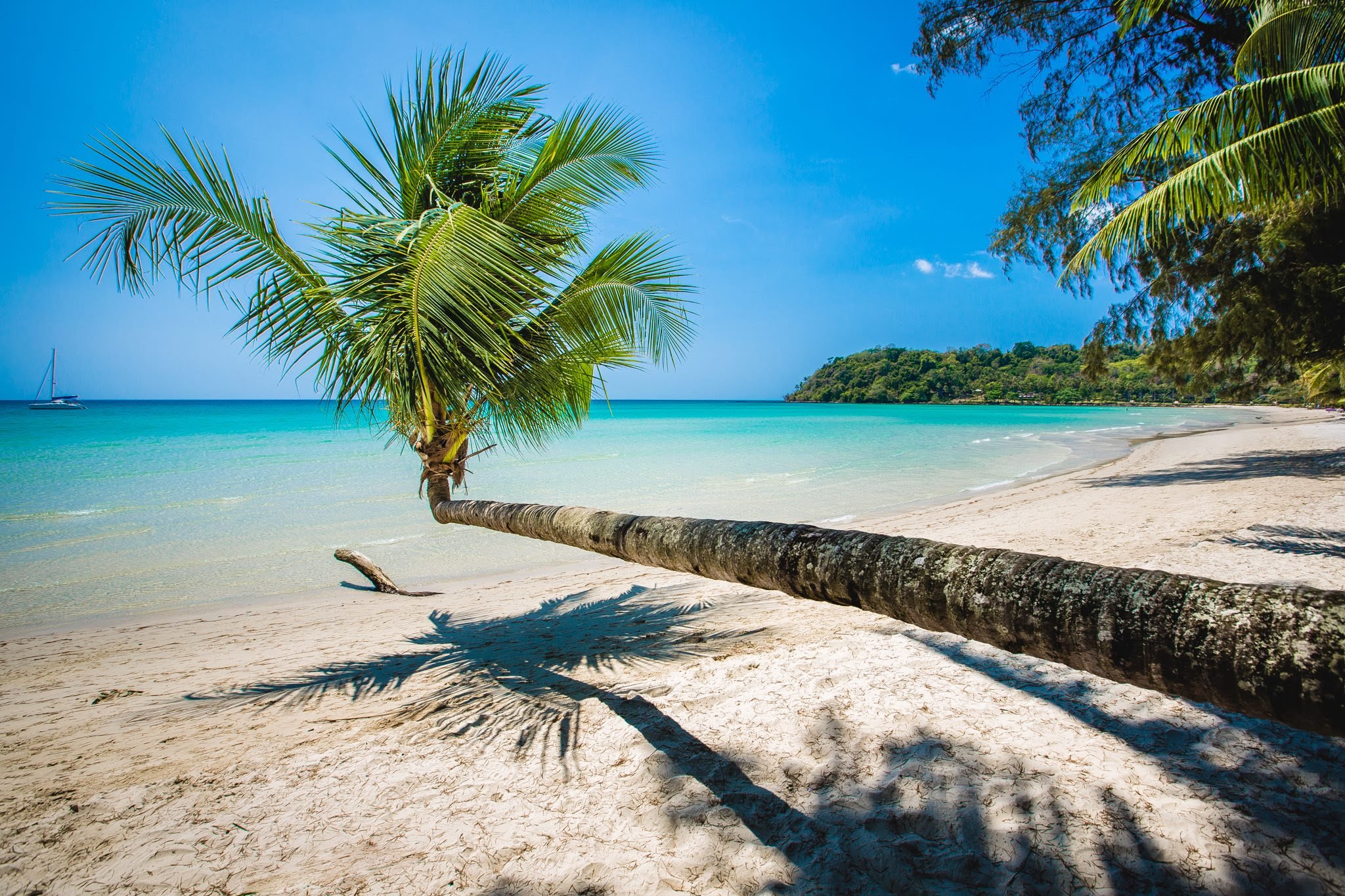 Phuket
The largest of the islands in Thailand, Phuket is for hedonistic or holistic pleasures where you will be spoilt for choice of where to put your head at night, what to dine on and how to fill your day.  
The Old Town of Phuket with its Sino-Portuguese shop-houses, plethora of night venues and luscious restaurants is a draw card in its own right when you have finished being a beach bum for the day. Sleazy Patong overflows with people suffering from last night's alcohol indulgence, whilst Surin caters to top-end pleasure seekers.
There are national parks and wildlife sanctuaries in the north of the island and some of the best hotels and spas in the whole of Thailand dotted around its shoreline.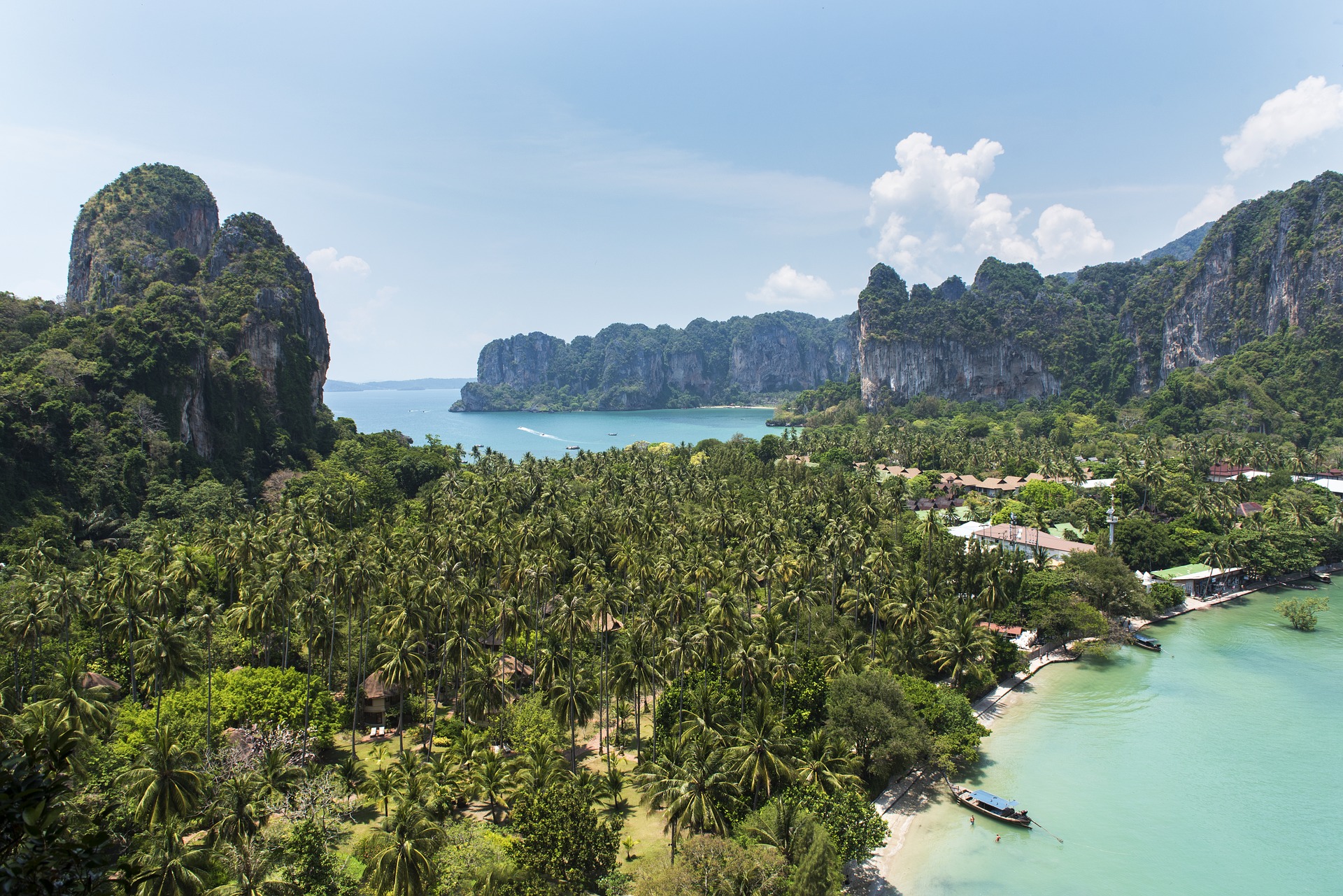 Railay 
This is the ultimate place for rock climbing junkies who like to play with the odd monkey on the way up a staggering cliff face overlooking a stunning beach.  You can only get here by boat and it does get crowded with the day tripping hordes. This is where you will find a bit of soul in your Rasta moment.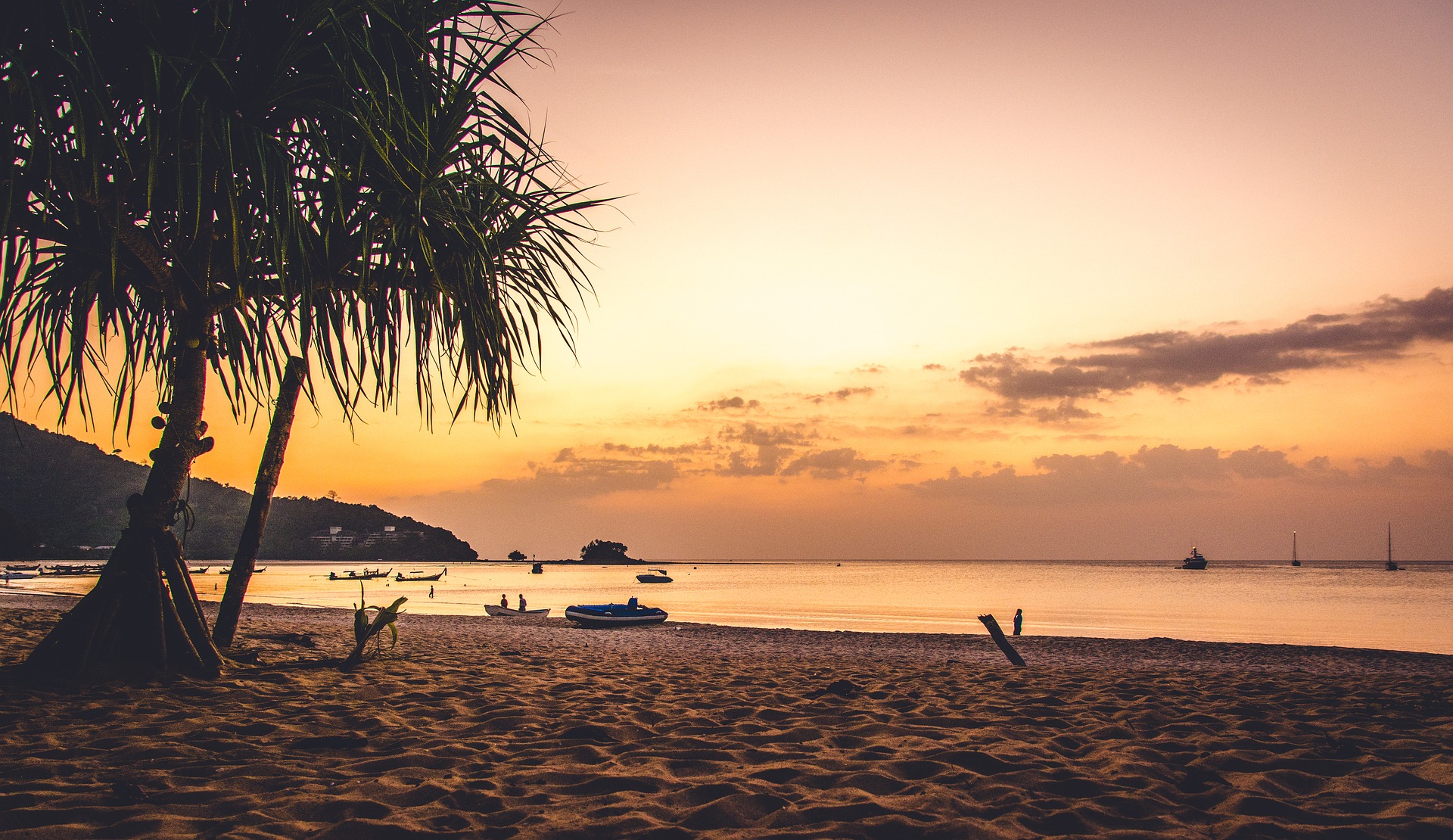 Ko Kut
There is no nightlife, so don't plan on being out partying all night.  The most strenuous activity will be lifting your feet from talcum soft powder sand onto the hammock swinging between the palm trees.  The water laps a perfect shoreline and snorkeling may tempt you from your book.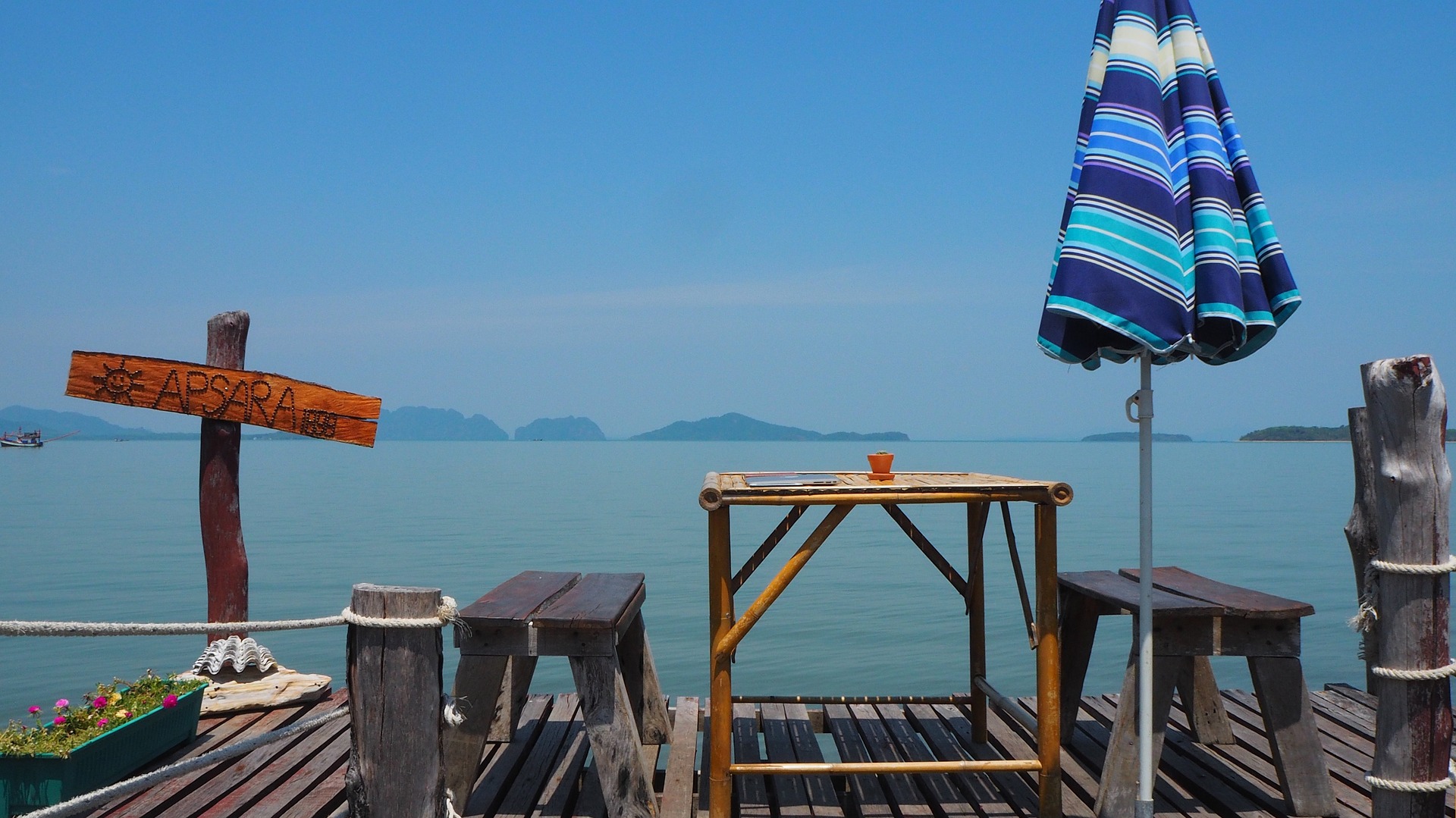 Ko Lanta
A calm paradise that was once home to sea gypsies, Ko Lanta is cloaked in mile-long beaches and has numerous dive spots such as Hin Daeng, Hin Muang and Ko Haa.  You can grab some fried chicken on the roadside, tour on a motor bike and check out the stilted villages clinging to the island's east side amidst thriving mangroves.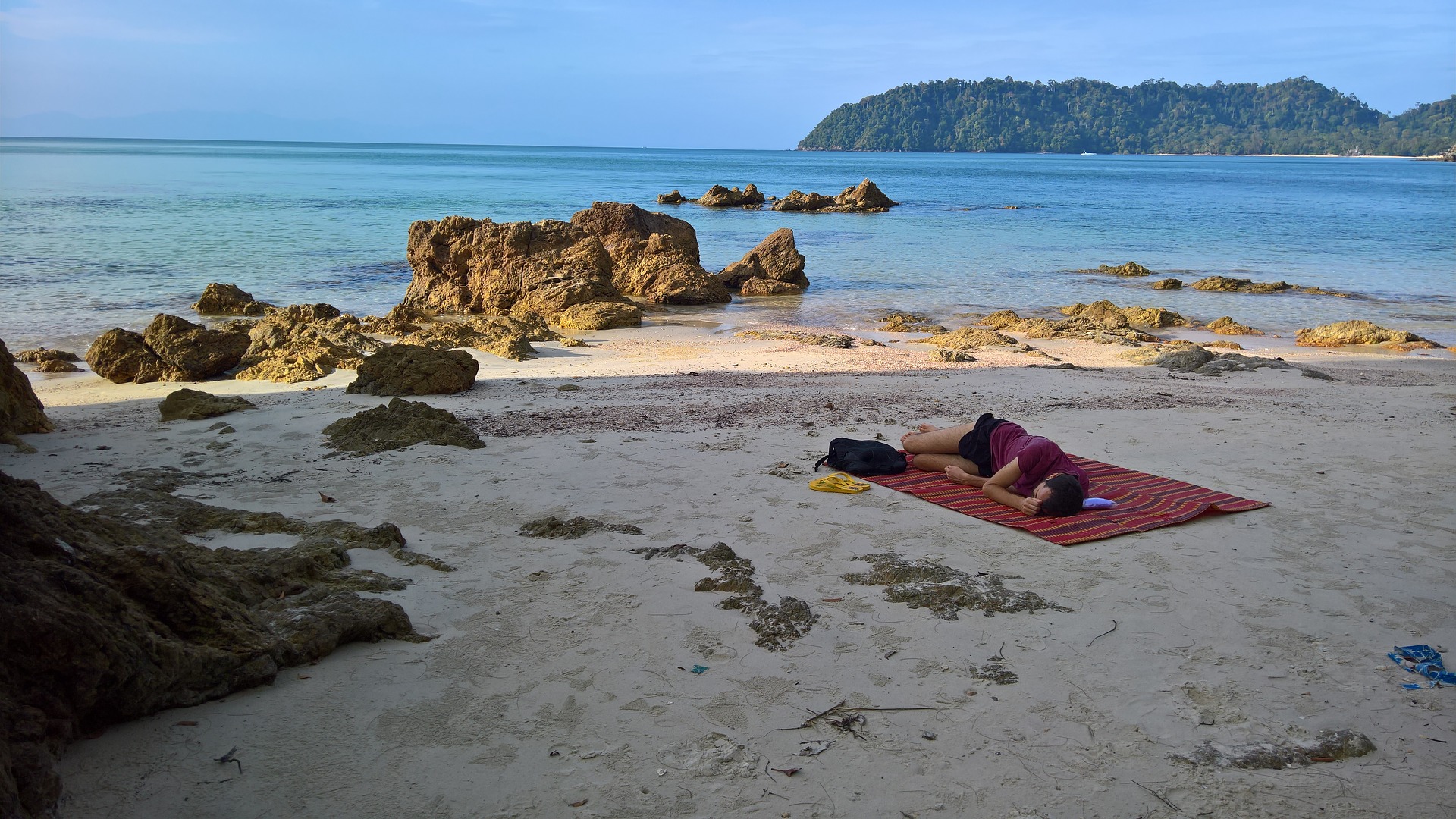 Ko Phayam
The second largest Andaman Sea island sitting off Ranong in the north of Thailand, Ko Phayam has no roads, so you don't have to worry about being run over by a wayward motor bike.  If you are chasing the Ko Samui of 30 years ago where you can totally get away from everything, Ko Phayam is the answer.
There are only 2 major beaches of which Buffalo Bay is the superior for solitude and the Big Bay is the busiest with a few bars dotted along the sand.  Development is starting to happen, so go here before the crowds jettison in.
Quirky Thai Festivals Not to Miss
* Poi Sang Long Festival (held between March and April) is a rite of passage ceremony for the Shan people in the far north of Thailand.  It is a magical street parade of dancing and singing when boys between the ages of 7 and 14 are dressed up like princes (this would rival the Gay Mardi Gras of Sydney) and paraded around the streets on the shoulders of their older male relatives.
It is held for the young boys being initiated into monastery life.  Pai is the best town to experience this incredible spectacle.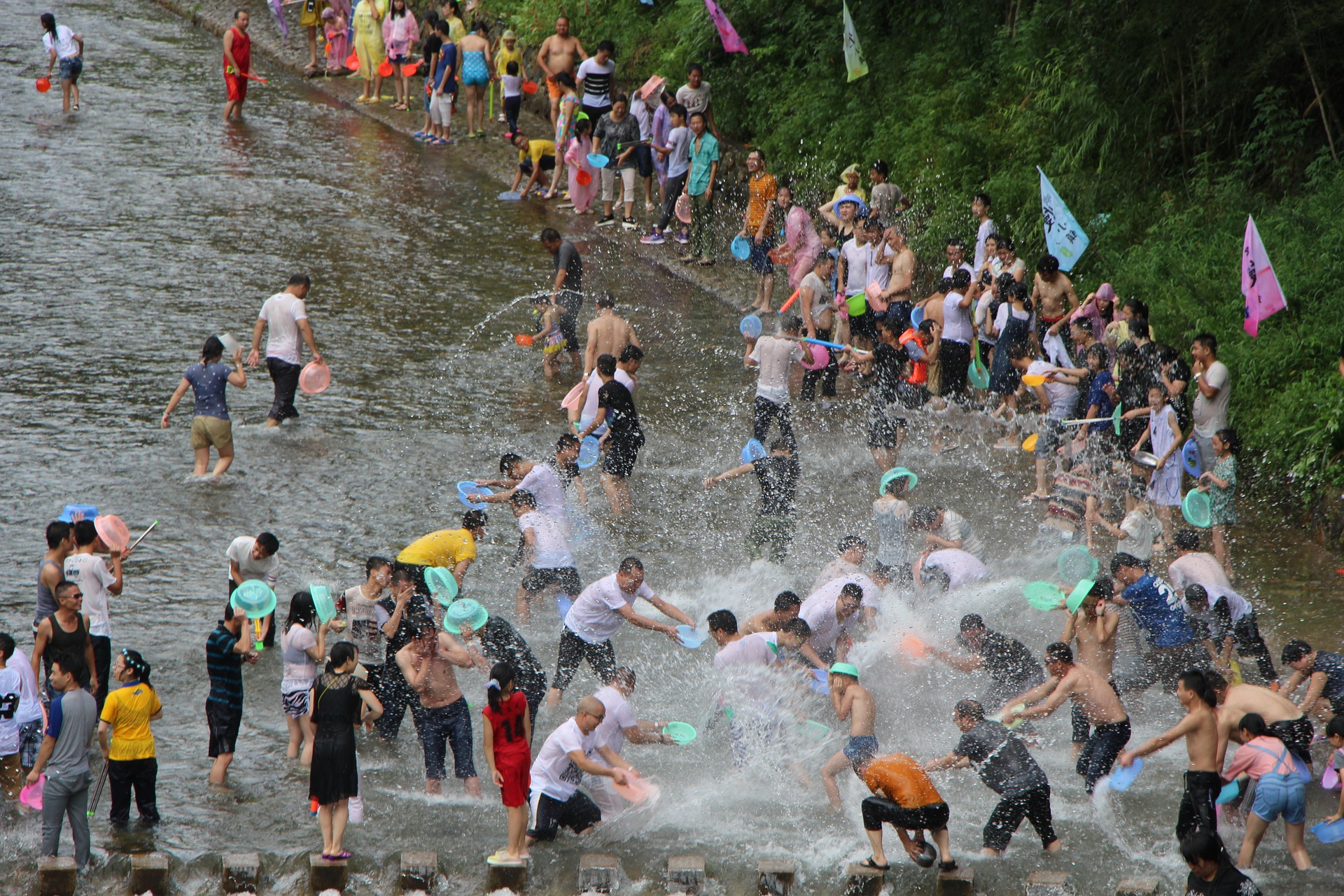 * Songkran, or one could say the "biggest water fight in the world", is held during April annually.  It is Thailand's traditional New Year celebration when water is sprayed literally everywhere by any means.
Once the celebration was a reverent drop of water dripped onto Buddha statues as a means of purification, it is now a chaotic water fight of mammoth proportions wherever you
go in Thailand.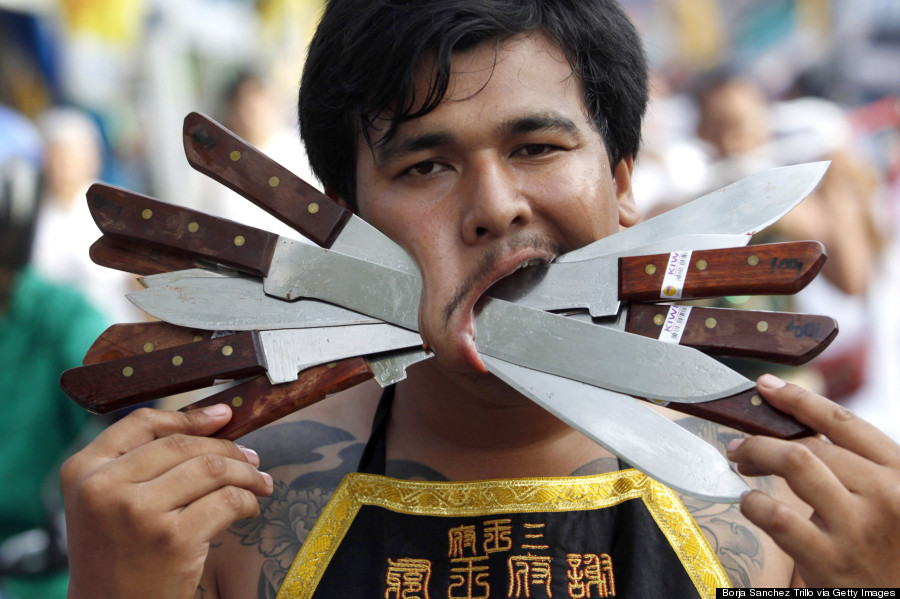 *The Vegetarian Festival of Phuket held in November each year is not a festival that the kids, the feint-hearted or those who don't like the sight of blood will enjoy.  It is celebrated throughout the country, but the main focus is on the old Phuket Town where about 35% of its population is Thai Chinese.
There is plenty of gore as gods invade the bodies of selected devotees who perform ritualized mutilation upon themselves, whilst in a trance-like state.  You will see huge palm fronds pushed through men's cheeks, slashing tongues with knives, backs whipped and plenty of other gruesome sights to the constant sound of firecrackers going off. Don't forget to wear earplugs and have a scarf to wrap around your face to protect yourself from the smoking firecrackers.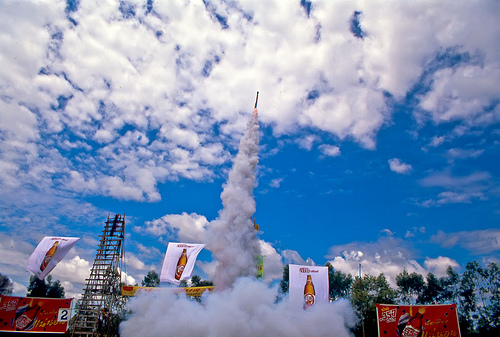 * The Rocket Festival or "Bun Bang Fai" is held in Isan in May.  It is literally "rockets for the gods", many of which have an extremely phallic illusion to their creative shapes.  The festival is one of floats, traditional dancing and music culminating in the letting off of the rockets, which you need to make sure you are out of firing range of.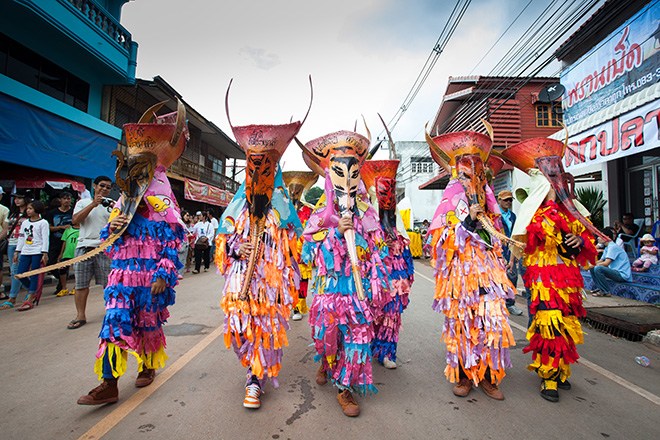 * The Ghost Festival or Phi Ta Khon is held in Dan Sei, Loei province of Isan and takes place for 3 days between March and July.  Maybe not for the wandering souls who scare easily as the locals adorn themselves with weird and fearsome masks made of rice husks or coconut leaves plus bells and of course, huge wooden phalluses.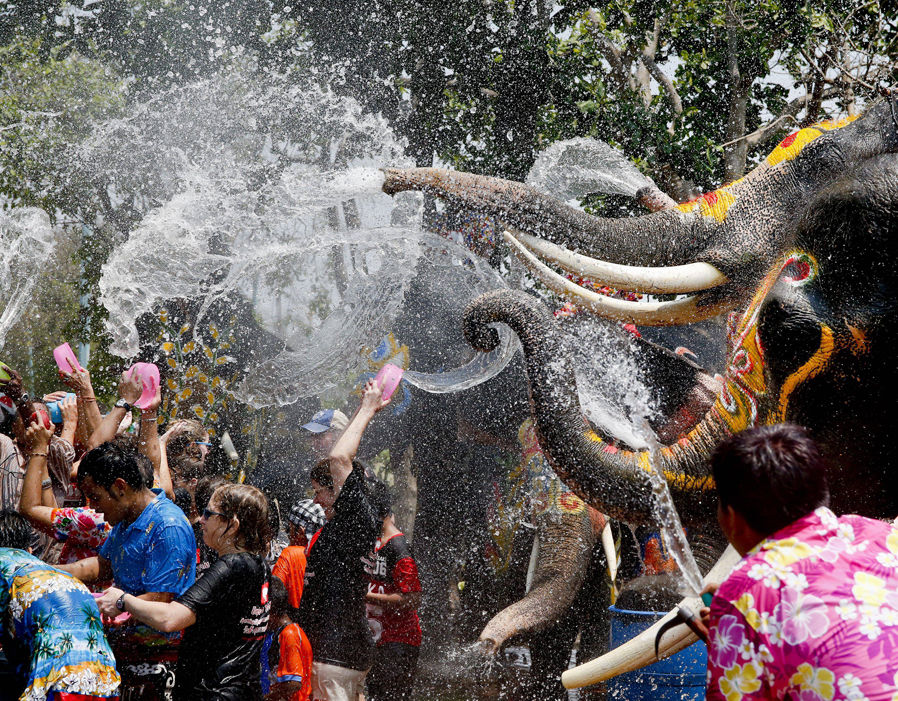 * The Elephant Festival of Surin is held in November and is a quirky showoff 2-day event of basically the history of the elephant in Thailand's past.  If you are lucky you will be kissed by an elephant and if unlucky, get stepped upon.
This is a cultural festival with its origins and inspiration coming from medieval times. The venue has been dubbed the "world's largest domestic elephant village" and it is a festival that kids love.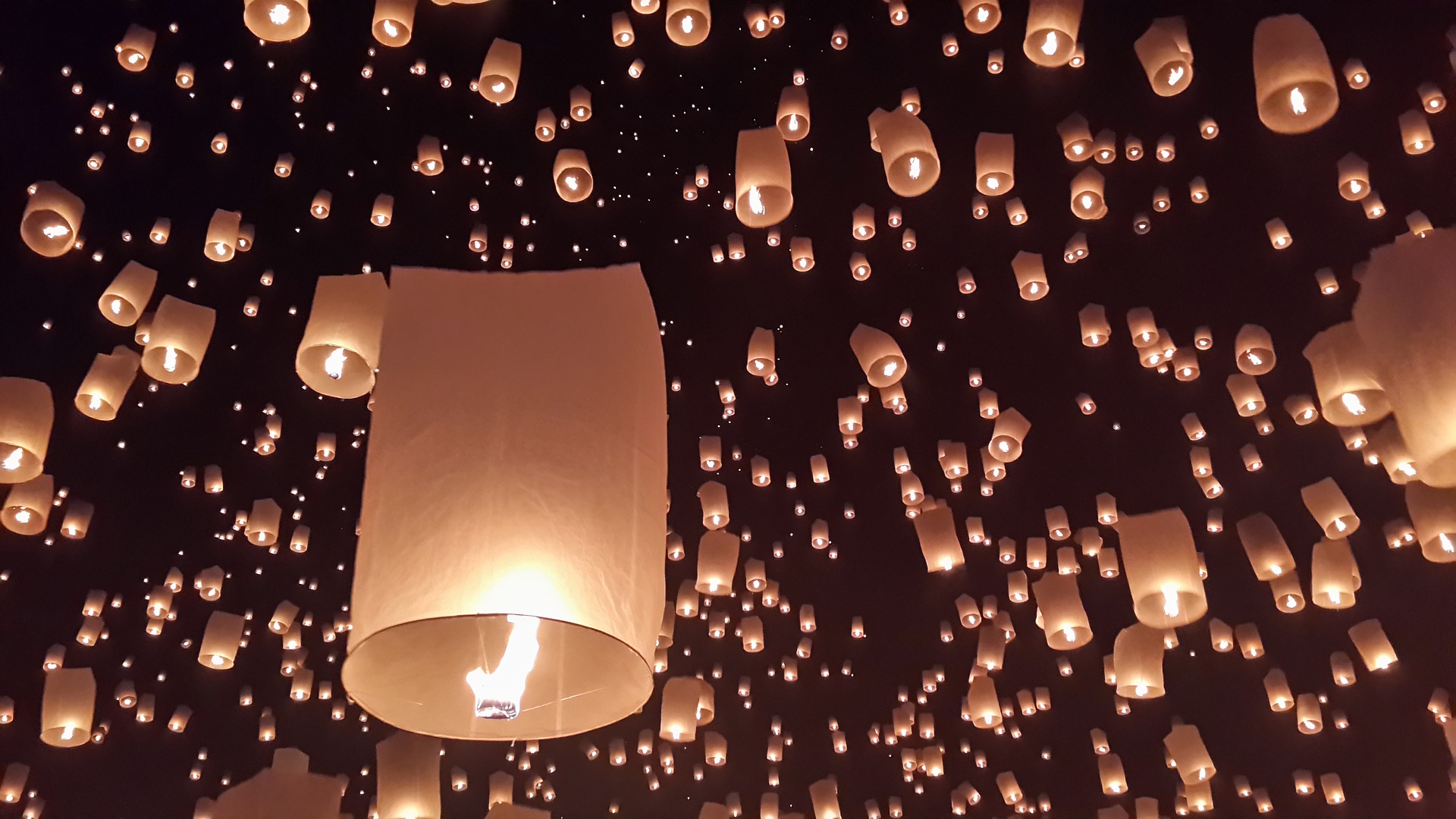 * Loy Krathong is held in November annually and is another one for the kids, whether big or little, to love.  It happens on the first full moon day of November and turns the country into a river of light as little handmade boats carrying flowers and candles glide away on the water.
It is an offering to the spirit of the water to wash away sins and one of the most beautiful experiences you will ever have in Thailand.
Thailand Travel Guide Extra Tips
* There is no real language barrier as many locals speak English and if not, the proverbial land of smiles will give you plenty of reasons to brush up on your hand language.
* Chiang Mai does get a bit on the smoky side during March of each year when the local farmers burn their fields.
* Hiring of jet skiis, getting into boats or bungy jumping, in fact anything that has a physical element to it and machinery, should be looked at with a lot of skepticism, as safety issues are not high on the agenda.
* Ensure that you wear a helmet if on a scooter or motorbike, as the local authorities will fine you if you are caught without one.
* Have fun bartering at local markets and always smile, as you are probably haggling over 5 cents.
* Don't drink the water and ensure that purchased bottles of water have not been tampered with.
* Be respectful of the local culture, such as taking your shoes off when you enter a temple or a private home.
* Many nationalities can stay for 30 days with a tourist visa on arrival.
* Tipping is not expected, but always appreciated.