[Klook Exclusive] Special offer at Jump Arena
[Klook Exclusive] Special offer at Jump Arena – Only $6 ~ 140,000vnđ
Book our exclusive offer Buy 3 Get 1 Unlimited Tickets to get the best bang for your bucks
Get access to the latest attraction in Ho Chi Minh and enjoy a full-body workout at Jump Arena Trampoline Park!
Test your endurance with a wide range of activities such as wall climbing, trampolines, and many more!
Bring your kids as they can spend a fun-filled day in a dedicated zone where they can meet new friends
Conquer the exciting obstacle course of Ninja Challenge that combines parkour, climbing, and rope circuit
>>> Free cancellation before redemption

>>> Show mobile or printed voucher

>>> Collect Physical Ticket
What To Expect
Get access to the largest indoor trampoline park in Vietnam. Jump Arena Trampoline Park aims to provide a specialized range of full-body exercises such as wall climbing, challenging obstacle courses, and many more!
The park will undoubtedly deliver a unique bonding experience with your family or friends. Try the giant airbag and jump as high as you can or launch yourself from the trampoline and dive straight to the foam pit.
Test your basketball skills as you try to dunk the ball into the hoop while bouncing high in the air with Bounce Slam Dunk. Don't miss out on the Ninja Challenge during your visit, as this exciting course combines the challenges of parkour, wall climbing, and rope balancing.
Make your way through the entire circuit and turn your workout into a real adventure! The park also has a dedicated area for kids where they can have fun diving into colorful ball pits, jump on trampolines, and play with other kids.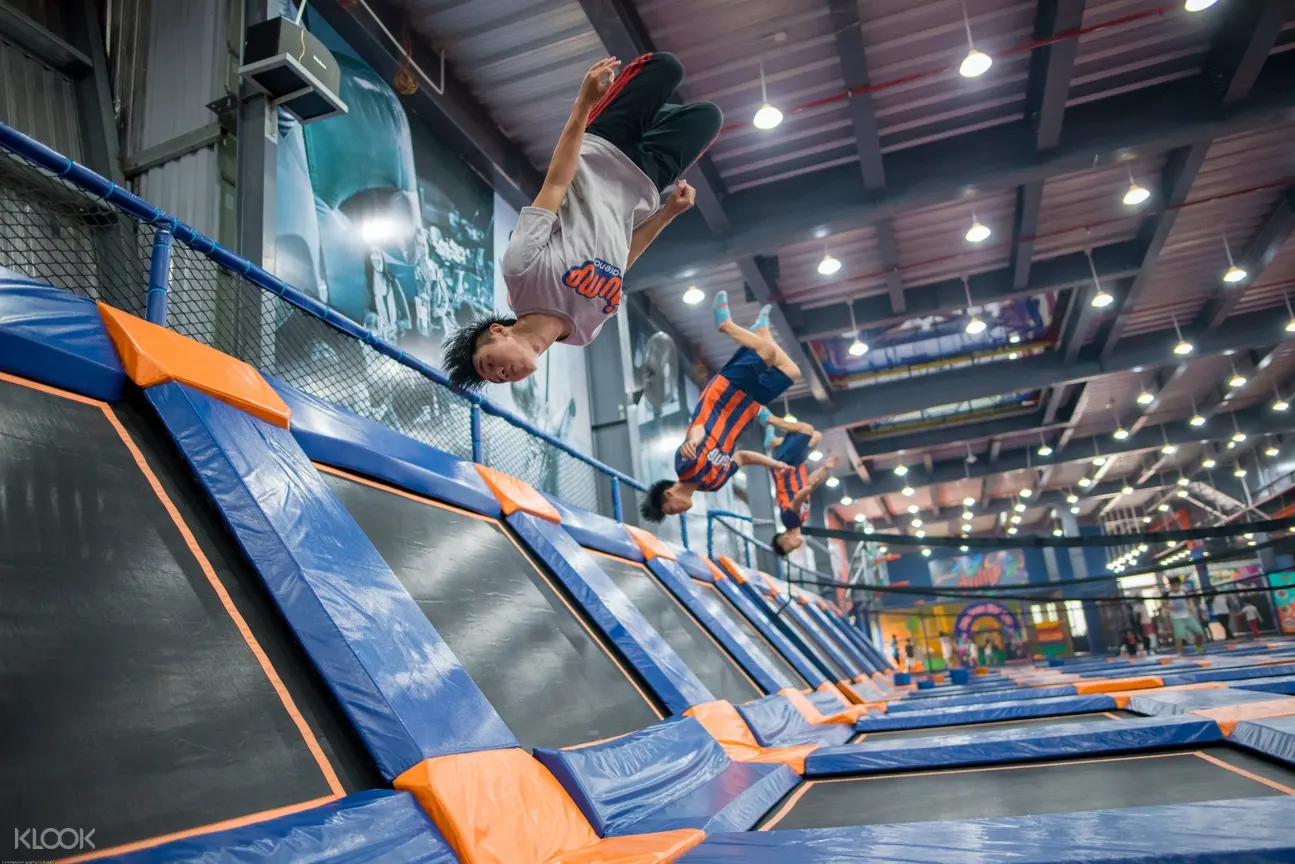 Perfect for families and friends, the park is filled with exciting activities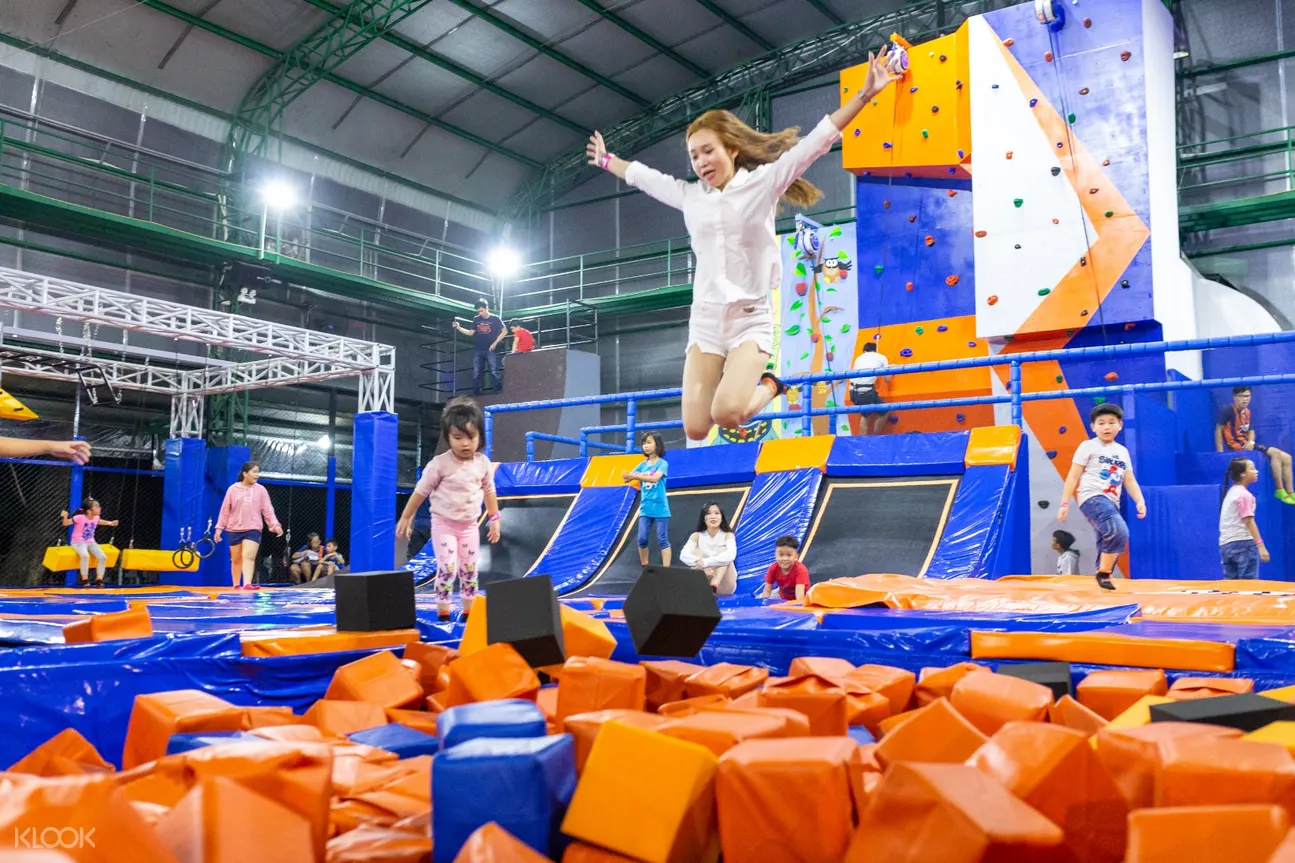 Enjoy the freedom of flying and landing to a soft cushion of foam cubes at the Foam Pit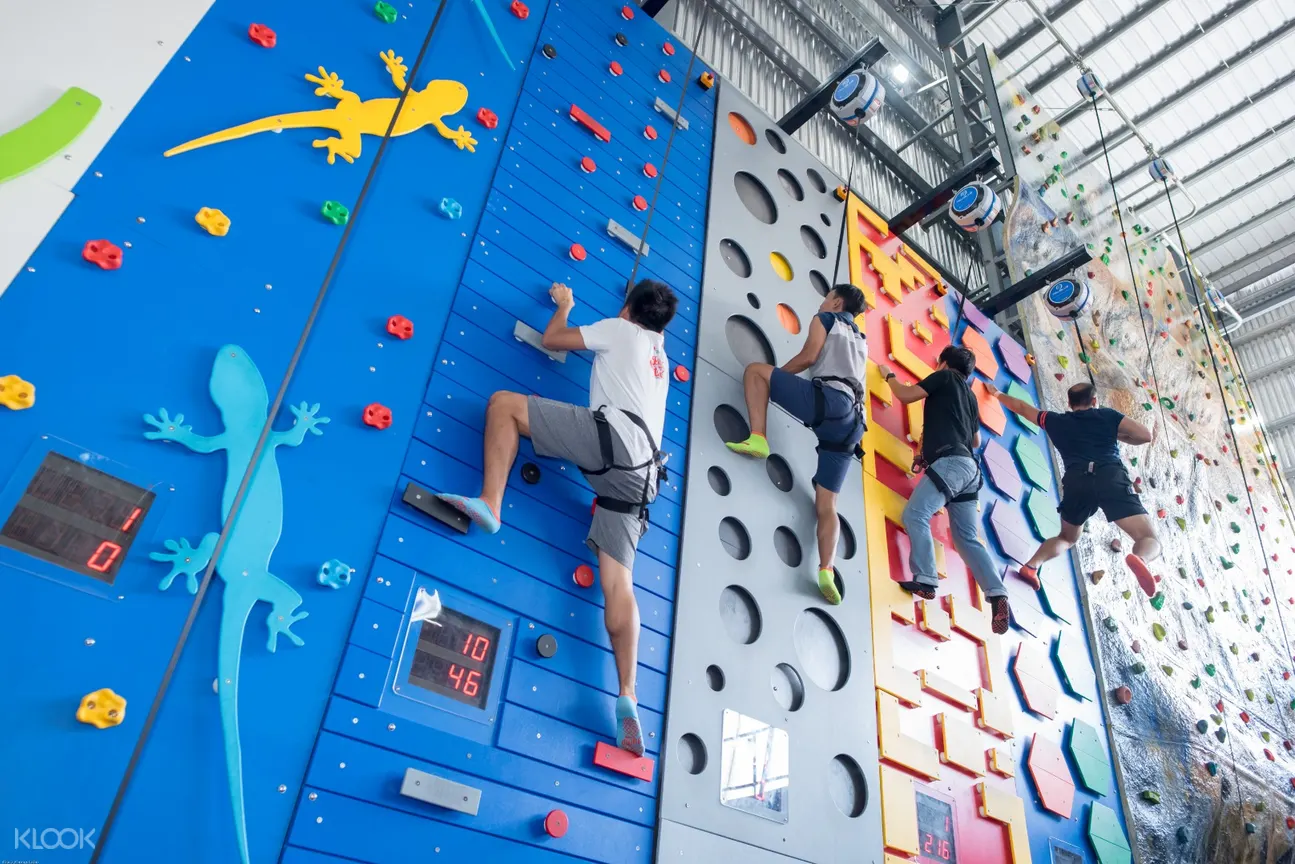 Put your strength and bravery to the test while trying to reach the top with this basic wall climbing activity
How To Use
Please refer to your selected package for exact details
Voucher Type Description
You can present either a printed or mobile voucher
Validity
The voucher is valid for 30 day(s) from the date of issue
How to Redeem
Present your voucher and exchange it for a physical ticket
Opening Hours
09:00-21:00
Last admission: 1 hour(s) before closing time
Address
63 Xa Lo Ha Noi, Thao Dien Ward, District 2. Ho Chi Minh City
Please refer to the map for assistance
How To Get There
By Taxi: Local taxis are available for commute within Ho Chi Minh City
Terms & Conditions
Please refer to your selected package for exact details
Cancellation Policy
Full refunds will be issued for cancellations made before a voucher is redeemed
Jump Arena là khu tích hợp vui chơi bạt nhún trong nhà đầu tiên tại Việt Nam với mong muốn tạo ra 1 địa điểm lý tưởng cho giới trẻ trải nghiệm và khẳng định chất riêng.
Với những trò chơi vận động đa dạng theo từng cấp độ từ dễ đến khó, khách hàng sẽ được chơi hết sức, quẩy hết mình, thúc đẩy khí chất và năng lượng bản thân.
Bên cạnh đó, Jump Arena còn là nơi tạo dựng xu hướng giải trí mới cho cộng đồng Việt với những hoạt động mới lạ, độc đáo trên khu bạt nhún qua những sự kiện đặc biệt mỗi tháng như Team Building, School Trip, Tiệc sinh nhật,…
Đội ngũ tổ chức chuyên nghiệp cùng trang thiết bị hiện đại là yếu tố mấu chốt góp phần tạo nên buổi hoạt động dã ngoại ấn tượng, đáng nhớ cho doanh nghiệp và trường học.
Được ảnh hưởng từ nền giải trí Singapore và thành lập trong năm 2015, Jump Arena đang dần mở rộng và khẳng định vị thế ra khu vực Đông Nam Á.
Cuối năm 2016, công ty đã chính thức đưa vào hoạt động với trung tâm đầu tiên tại Quận 2 TP. Hồ Chí Minh, mang tên: Jump Arena Thảo Điền.; và hứa hẹn sẽ trở thành 1 trong những địa điểm vui chơi giải trí dành cho giới trẻ hàng đầu Việt Nam trải dài trên cả nước.
Công Viên Giải Trí Jump Arena Trampoline Park nhằm mục đích cung cấp một loạt các bài tập toàn thân chuyên dụng như leo tường, các khóa học vượt chướng ngại vật, và nhiều hơn nữa!
Công viên chắc chắn sẽ mang đến trải nghiệm gắn kết độc đáo với gia đình hoặc bạn bè của mình.
Hãy thử túi khí khổng lồ và nhảy cao nhất có thể hoặc phóng mình từ tấm bạt lò xo và lao thẳng xuống hố xốp. Kiểm tra kỹ năng chơi bóng rổ khi bạn cố gắng thả quả bóng vào cái vòng trong lúc nảy lên cao trong không trung với Bounce Slam Dunk.
Đừng bỏ lỡ Thử Thách Ninja trong chuyến ghé thăm, vì khóa học thú vị này kết hợp các thử thách về parkour, leo tường và cân bằng dây thừng. Tự mình thực hiện thông qua toàn bộ mạch và biến tập luyện của bạn thành chuyến phiêu lưu thực sự!
Công viên cũng có một khu vực dành riêng cho trẻ em, nơi trẻ có thể vui chơi lặn xuống các hố bóng đầy màu sắc, nhảy trên các tấm bạt lò xo và chơi với những đứa trẻ khác.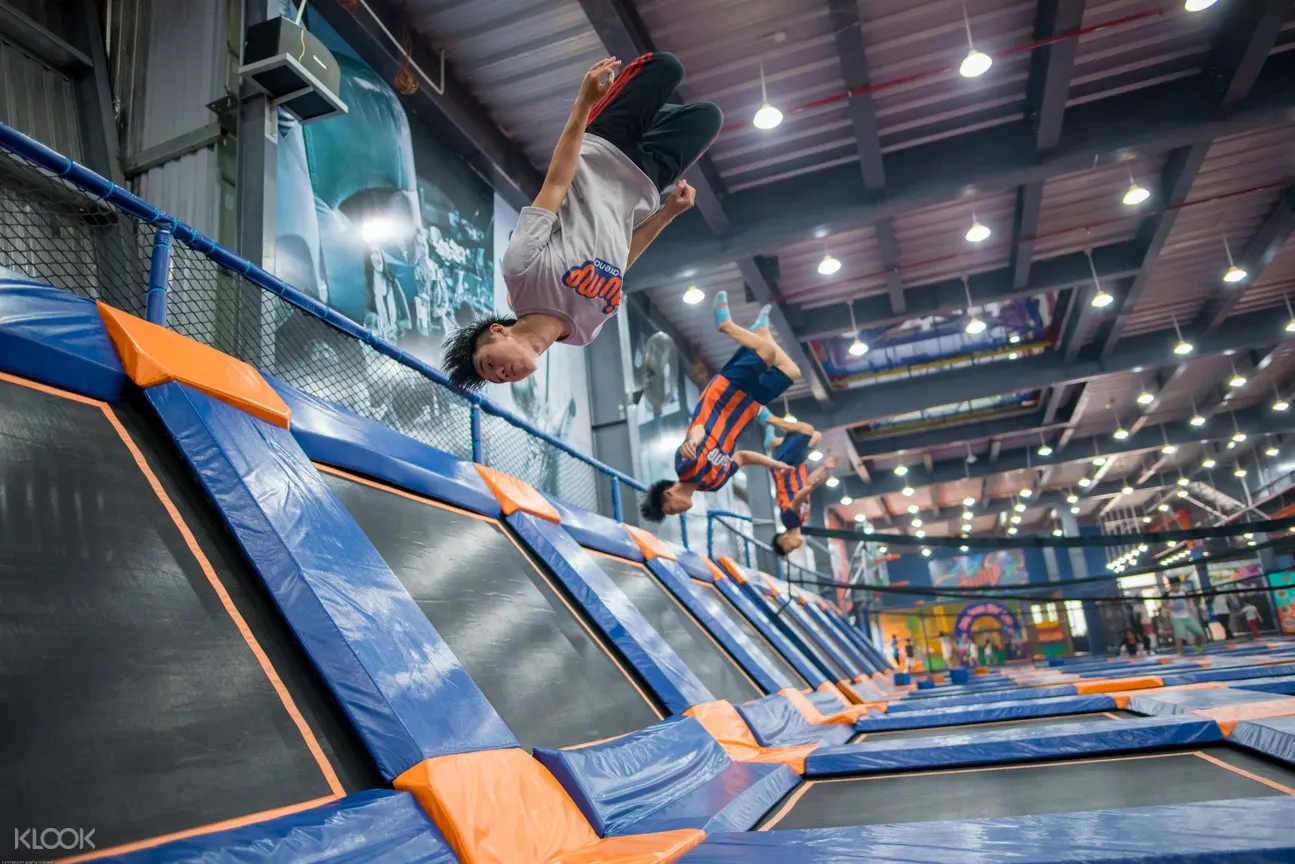 Hoàn hảo cho gia đình và bạn bè, công viên có nhiều hoạt động thú vị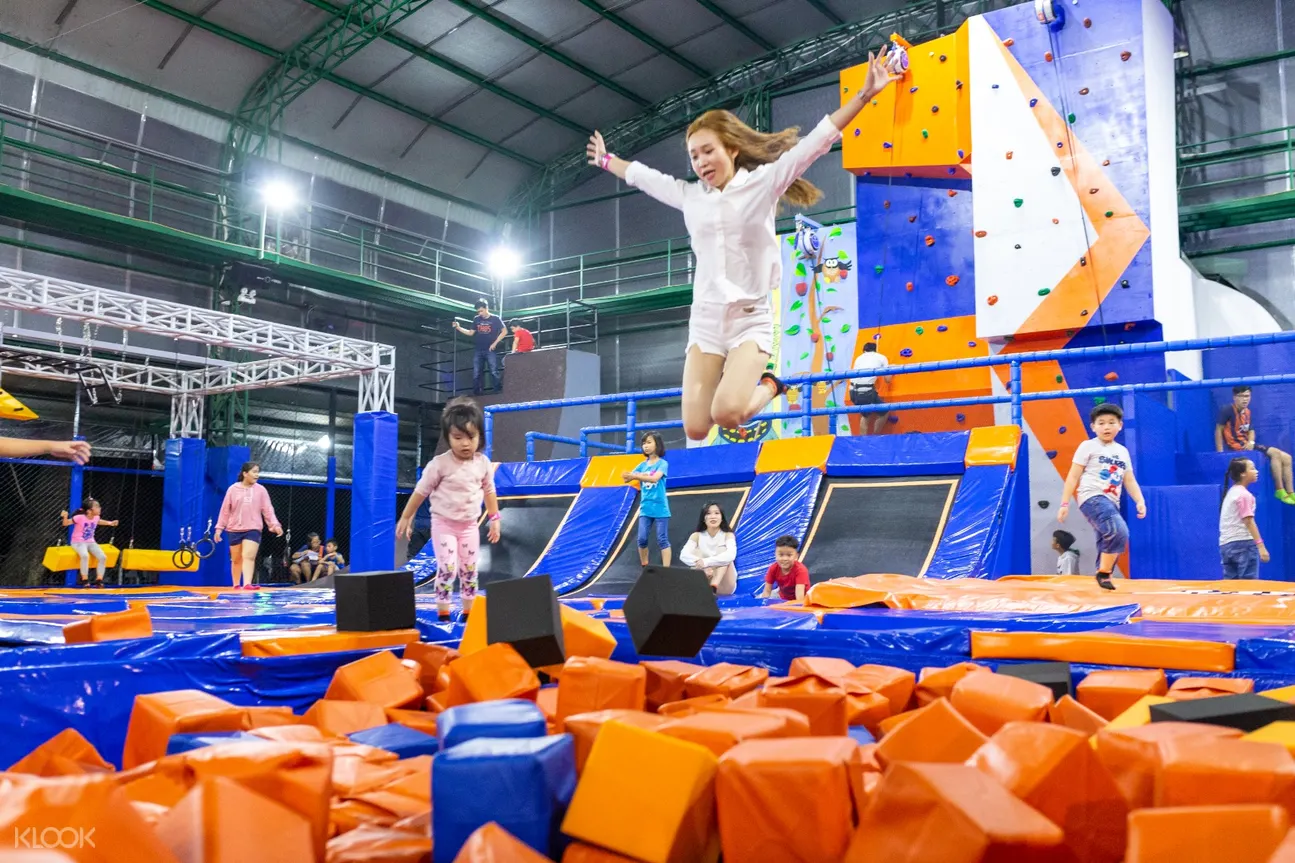 Tận hưởng sự tự do bay lượn và hạ cánh xuống một khối bọt mềm hình khối tại Hố Bọt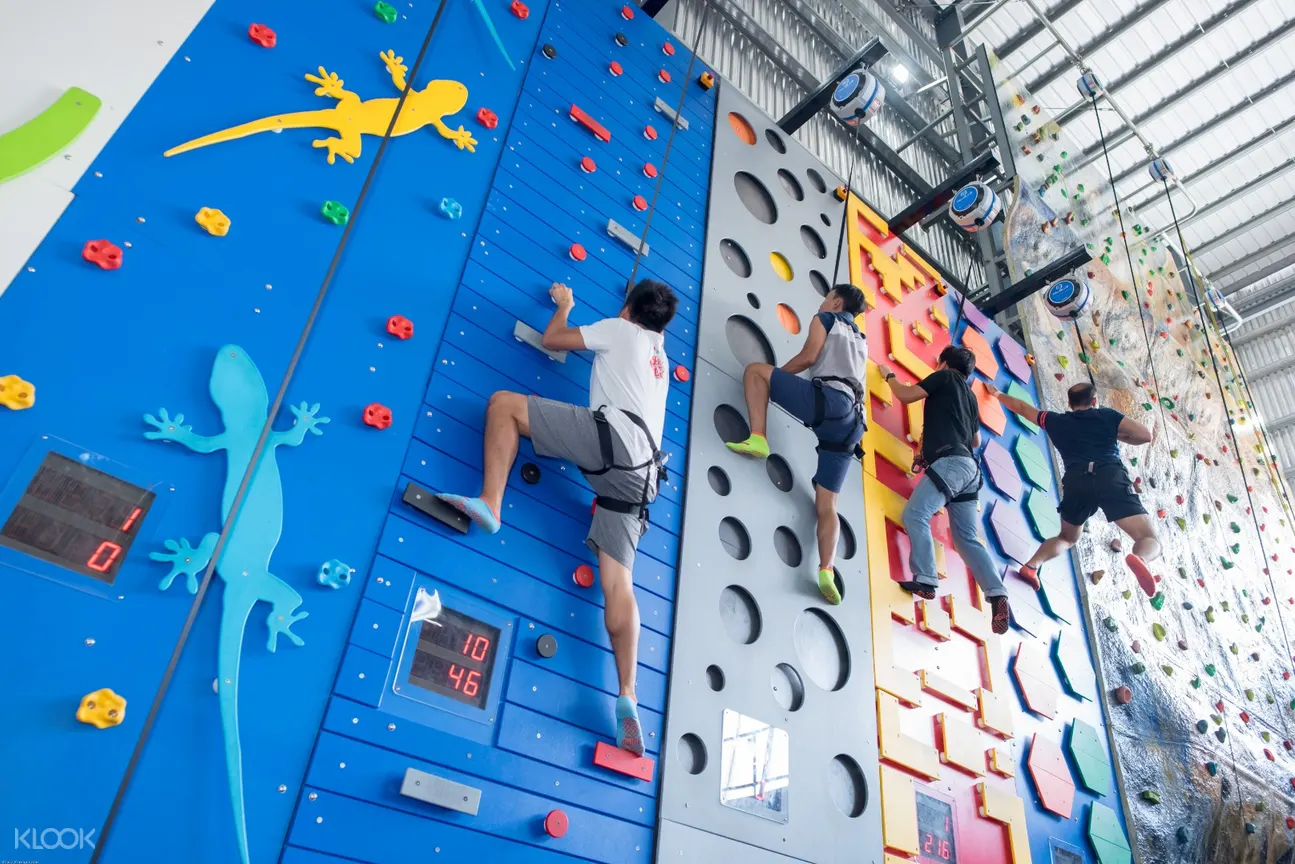 Thử thách sức mạnh và bản lĩnh của bạn trong khi cố gắng đạt đến đỉnh cao với hoạt động leo tường cơ bản này.