7 wonderful attractions in Sentosa island
Sentosa island, Singapore – With more than twenty million tourists visiting it per year, the Sentosa island is one of the most popular tourist destinations in the world. Home to some of the unique, worldly famous icons, it seems that Sentosa island attractions are infinite.
Formerly known as Pulau Blakang Mati, which was used as a British military base as well as a Japanese war prisoners' camp, this colorful island of happiness nowadays bear no sign of those times, except some amazing historic souvenirs such as Siloso Fort.
Sentosa island attractions include the famous Merlion, Universal Studios Singapore theme park, a casino, the award winning night show "Wings of Time", Madame Tussauds Singapore, and many more.
No matter how old are you or where have you come from, you will absolutely find some attractions which will match your taste and create a special unforgettable memory of your days in Singapore.
Let's take a look at some of the most popular Sentosa island attractions which everyone should pay a visit to.
1) Gigantic Merlion of Sentosa
The picturesque 37 meter tall half lion half fish guardian of Singapore, located in Sentosa island is definitely a must-see. This mythical creature is the well-known symbol of Singapore which represents the two main elements of Singapore. The lion, as the city name means "the Lion City" and fish, which depicts the history of Singapore as a fishing village.
There are only five original statues of Merlion in Singapore, and this one is actually the biggest one, dazzling in the beautiful island of Sentosa.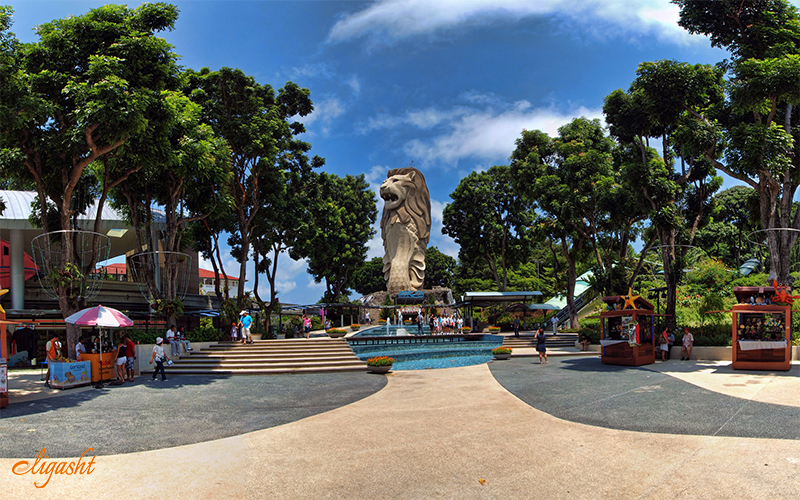 2) Amazing Beaches
One of the most wonderful Sentosa island attractions are three popular beaches, all man-made, clean, and a paradise for sun worshippers despite the difference in views and atmosphere.
Siloso beach is the busiest one with energetic people spending time on exciting activities. Home to the most of the restaurants and thrilling zip-line, you will never get bored in Siloso.
Quieter than the crowded Siloso, Palawan beach is the family-friendly beach of Sentosa. With playgrounds and parks for children and scenic lagoon which is ideal for swimming and water sports, there is no doubt that every member of family will have a quality time here.
The most remote beach which has a different natural theme, different from the others is Tanjong beach. With the volleyball nets available, this beach is one of the most favorite ones among the sport-loving people.
3) Universal Studios Singapore
Featuring 28 rides, seven themed zones (Hollywood, New York, Sci-Fi City, Ancient Egypt, The Lost World, Far Far Away, and Madagascar), and various shows running, you can experience your favorite movie world in real life.
Located in easternmost part of Resorts World Sentosa, this magnificent park is truly one-of-a-kind theme park in Asia, as there are 18 attractions in the Universal Studios Singapore which is original or specially adapted for the park.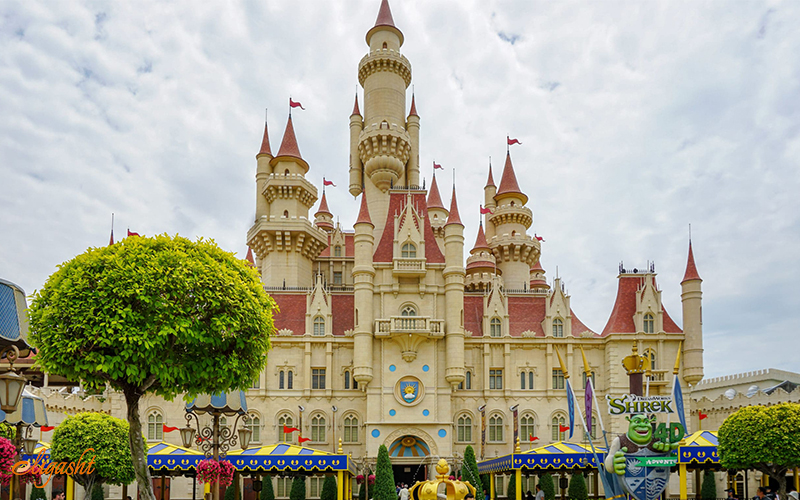 4) Wings of Time
What can make a day at Sentosa complete?
A majestic ending.
5) Madame Tussauds Singapore
What can be more exciting than the fabulous experience of meeting Nicole Kidman, Tom Cruise, Johnny Depp, Cristiano Ronaldo, David Beckham, and Brad Pitt, and a lot more, all in person?
Of course all of them are the wax versions, but be sure that nothing is comparable with visiting the world's most famous wax attraction.
Take your time wandering around and taking selfies with the world famous actors, musicians, athletes, and even politicians.
6) Southernmost Point of Continental Asia
Passing through a suspension bridge to reach an islet in order to stand on the edge of the oldest and the biggest continent of the world. With the unique, romantic setting, fabulous watch towers and beautiful trees, it will be an unforgettable memory, as it is supposed to be. Enjoy this one-of-a-kind experience along with refreshing sea breeze and gorgeous scenery.
7) Crane Dance
A breathtaking show that is a combination of audiovisual technologies, light and water effects. The show tells the love story between a pair of cranes, both mechanical ones, and how the love among them transfer them into real birds.
The cutting-edge technologies used, along with the effects is so inspiring that will cause every visitor to goosebump.
Every evening there is a chance for you to catch the cranes before they fly away.